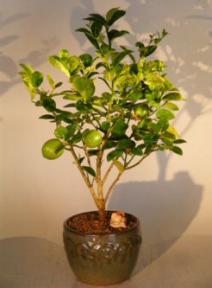 Key Lime Bonsai Tree (Citrus Aurantifolia)
The Key Lime Bonsai Tree, also known as the Mexican Lime or Bartender's Lime, is a delightful small tree that boasts a heavy crop of globose fruit. These fruits are typically 1-2" in size and are yellow when ripe, although they are often picked while still green. The Key Lime is smaller and seedier than the common Persian Lime, but it is highly valued for its unique, tart flavor and strong aroma.
This bonsai tree stands at 14" tall and is 8 years old. It has an open habit and produces fragrant flowers and fruits readily on its own, making it a fantastic indoor addition. The Key Lime Bonsai Tree is also popularly used for making Key Lime pie.
It is grown and trained by skilled bonsai experts. A suitable humidity/drip tray is recommended for optimal growth and can be added at a small additional cost.
Please note that due to current US Department of Agriculture restrictions, this tree cannot be shipped to AZ, CA, FL, HI, LA, PR & TX at this time.
MORE DETAILS
Related Bonsai Trees:
*This page contains affiliate links, and we may earn a commission if you make a purchase through these links at no extra cost to you.