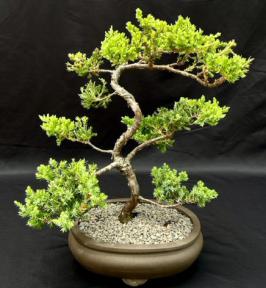 Juniper Bonsai Tree Trained (juniper procumbens 'nana')
A dwarf Juniper from Japan, this bonsai tree is the most popular evergreen in the U.S. The "Juniper Procumbens Nana" is often what comes to mind when picturing a traditional bonsai. These trees are incredibly hardy, long-lived, and can withstand many adverse conditions. This particular tree has been trained in a specific style.
At 22 years old, this bonsai measures 11" x 16" x 16" tall.
This bonsai tree has been grown and trained by a skilled bonsai artist.
The tree is potted in a 8" tan un-glazed oval ceramic container. A suitable humidity tray is recommended and can be added at a small additional cost.
MORE DETAILS
Related Bonsai Trees:
*This page contains affiliate links, and we may earn a commission if you make a purchase through these links at no extra cost to you.