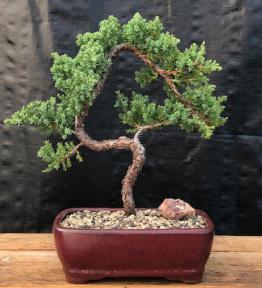 Juniper Bonsai Tree Trained (juniper procumbens 'nana')
The Juniper Bonsai Tree, a dwarf variety from Japan, is the most sought-after evergreen in the United States. The quintessential image of a traditional bonsai, the 'Juniper Procumbens Nana' is renowned for its hardiness, longevity, and ability to withstand adverse conditions. This particular specimen has been trained into an aesthetically pleasing form.
At 20 years old, this bonsai stands 14" tall and measures 8" x 12". It's a mature, well-established tree that promises to be a focal point in any setting.
This bonsai has been carefully cultivated and trained by skilled bonsai artists. It's an excellent choice for anyone looking to add a touch of tranquility to their environment.
The bonsai is potted in an 8" Parisian Red rectangle ceramic container, adding a touch of elegance. A suitable humidity/drip tray is recommended and can be added at a small additional cost.
MORE DETAILS
Related Bonsai Trees:
*This page contains affiliate links, and we may earn a commission if you make a purchase through these links at no extra cost to you.