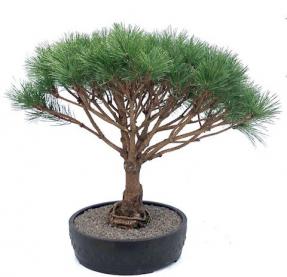 Japanese Red Pine Bonsai Tree (Pinus Densi 'Globosa')
This Japanese Red Pine Bonsai Tree, also known as Pinus Densi 'Globosa', is a captivating sight with its red trunk that reveals orange tints upon peeling. Its slender, soft, and dark green needles come in pairs, adding to its unique charm. The tree boasts an abundance of seed cones, similar to those of a Scots Pine, and its branches grow in an upright style without drooping.
Regarded as feminine in Japanese culture, this Red Pine Bonsai Tree is a hardy evergreen that thrives outdoors. It's a mature specimen, being 65 years old and standing 25" x 24" x 24" tall.
It has been carefully grown and trained to maintain its stunning appearance. The tree is potted in a 12" brown round drum mica container, which complements its vibrant colors.
A suitable humidity/drip tray is recommended for optimal care and can be added at a small additional cost.
MORE DETAILS
Related Bonsai Trees:
*This page contains affiliate links, and we may earn a commission if you make a purchase through these links at no extra cost to you.