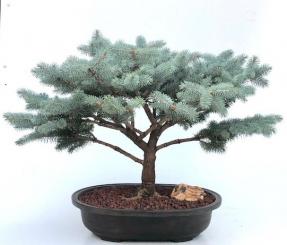 Globe Blue Spruce Bonsai Tree (Picea Pungens 'Globosa')
The Globe Blue Spruce is a distinguished dwarf Colorado Blue Spruce, known for its bright blue needles that retain their color throughout the year, with a brighter hue during summer. This unique accent is perfect for that special spot in your backyard.
At 44 years old, it stands 25" x 27" x 23" tall, a testament to its longevity and resilience.
This outdoor evergreen bonsai tree has been carefully grown and trained to achieve its current form.
It comes potted in a 16" brown oval mica container. A suitable humidity/drip tray is recommended and can be added at a small additional cost.
MORE DETAILS
Related Bonsai Trees:
*This page contains affiliate links, and we may earn a commission if you make a purchase through these links at no extra cost to you.