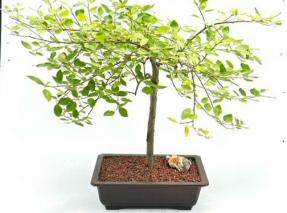 Flowering Weeping Pussy Willow Bonsai Tree (Salix Caprea 'Pendula')
The Weeping Pussy Willow Bonsai Tree is a captivating sight, with its slender, pendulous branches forming a living umbrella or fountain. In early spring, these branches are adorned with large, fluffy, silvery catkins, followed by studded golden anthers and lovely green foliage. The branches arch straight down, creating a stunning display in all seasons. This tree is an excellent choice to accent a deck, patio, or pond. It is a deciduous tree that should be kept outdoors.
At 29 years old and measuring 29" x 33" x 29" tall, this bonsai tree has been carefully grown and trained. It is potted in a 15" brown rectangle mica container. A suitable humidity/drip tray is recommended and can be added at a small additional cost.
Depending on the time of year, the tree may be shipped with mature, turning, and transitioning foliage in late summer (August), or with no foliage during autumn and winter. This is a normal, annual process as the tree prepares for dormancy. The tree will emerge from dormancy and re-grow foliage in early Spring.
MORE DETAILS
Related Bonsai Trees:
*This page contains affiliate links, and we may earn a commission if you make a purchase through these links at no extra cost to you.