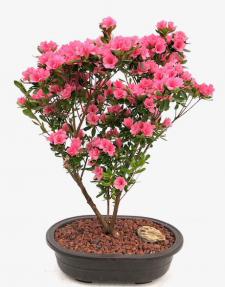 Flowering Rosebud Azalea Bonsai Tree (Rhododendron 'Rosebud')
The Flowering Rosebud Azalea Bonsai Tree is a compact evergreen marvel that produces stunning rose pink flowers. In the spring, these flowers bloom to resemble perfect rosebuds, delicately flushed with deep purplish pink veins. This bonsai tree is evergreen and best suited for outdoor placement.
At 24 years old, this bonsai tree stands 21" tall and spreads 12" x 14". It's a testament to the beauty that time and careful cultivation can create.
This outdoor bonsai tree has been grown and trained with expertise and dedication. It's a living piece of art that brings a unique touch of nature to any setting.
The bonsai tree is potted in an 11" brown oval mica container. For optimal health and aesthetics, a suitable humidity/drip tray is recommended, which can be added at a small additional cost.
MORE DETAILS
Related Bonsai Trees:
*This page contains affiliate links, and we may earn a commission if you make a purchase through these links at no extra cost to you.