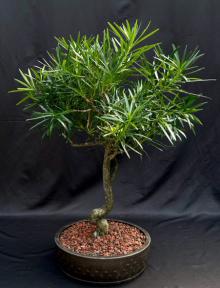 Flowering Podocarpus Bonsai Tree with Curved Trunk Style (podocarpus macrophyllus)
The Podocarpus, also known as the Buddhist Pine or Chinese Yew, is a lush evergreen with sharp, leathery, dark green leaves organized on rigid, symmetrical branches. This unisexual tree features male flowers in cones and female flowers made up of cylindrical thickened scales. The fruits are not only edible but also pendulous, fleshy, and brightly colored. The tree's new foliage emerges in a light green hue that darkens as it matures. This particular tree is trained in a traditional bonsai style, boasting a curved trunk and tiered branches. It thrives indoors, even though its growth rate is slow.
At 28 years old, this bonsai tree stands 28" tall and measures 19" x 20".
This indoor flowering bonsai tree has been grown and trained with care.
The tree is potted in an 11" brown round drum mica container. A suitable humidity/drip tray is recommended and can be added for a small additional cost.
MORE DETAILS
Related Bonsai Trees:
*This page contains affiliate links, and we may earn a commission if you make a purchase through these links at no extra cost to you.