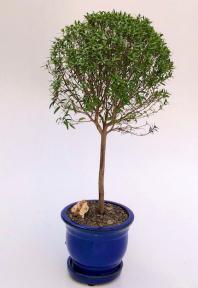 Flowering Myrtle Bonsai Tree Large Upright Broom Style (myrtus communis 'compacta')
The Flowering Myrtle, a small evergreen tree native to southern Europe and North Africa, thrives in warmer regions and is resilient in drought conditions. Its white, star-shaped flowers are a sight to behold, and its fragrant oils fill your home with a pleasant aroma. This bonsai is perfect for indoor placement, especially on a sunny windowsill.
At 9 years old and standing 14-15" tall, this bonsai has been carefully grown and trained to perfection.
For optimal growth and health, a suitable humidity/drip tray is recommended, which can be added at a small additional cost.
MORE DETAILS
Related Bonsai Trees:
*This page contains affiliate links, and we may earn a commission if you make a purchase through these links at no extra cost to you.