Wooden Display Table - 7.75 x 4.75 x 4.0 tall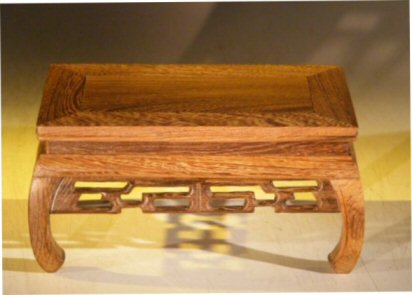 Sale Price: $69.95

From Bonsai Boy of NY
View User Comments
Wooden Display Table - 7.75 x 4.75 x 4.0 tall
Wooden display table. Made in China. Semi-gloss finish.
You may also be interested in these related Bonsai Trees and supplies:

Japanese Greybark Elm Seeds
- Sale Price: $4.95
Propagation instructions are included with each packet.

Oriental Ficus Bonsai Tree Coiled Trunk with Banyan Roots (benjamina 'orientalis')
- Sale Price: $125.00
Fig species which is native to south and southeast Asia. This evergreen tree is particularly good for bonsai training as they produce sturdy trunks, good branching characteristics and shiny leaves. Best to trim the leaves in early summer as the new leaves that subsequently grow will be smaller than the ones removed. Ours is trained in the coiled trunk style. Great for indoors.

Brown Turkey Fig (ficus carica)
- Sale Price: $79.95
Figs are naturally a mediterranean fruit tree but the American Brown Turkey Fig is prized and refers to the color of its large ripe pear-shaped fruit which has a purplish brown skin with ruby red or garnet flesh that is very sweet and succulent. Delicious when grown fresh and very popular as dried. This sun loving tree is capable of producing up to three crops of their fruits per year. Figs do not need pollinating to produce fruits and fruit on the previous years growth. Deciduous. Keep outdoors.

Flowering Tropical Dwarf Apple Bonsai Tree (clusia rosea 'nana')
- Sale Price: $49.95
A native to tropical America also known as Pitch Apple and is widely grown as an ornamental tree in tropical regions of the world. It is a compact evergreen tree that has attractive pink and white flowers and unique shaped fruit that is sometimes used in flower arrangements. The common name is derived from the unique leathery paddle leaves, but also known as the "Autograph Tree." In fact, you can scratch your name onto the surface of a leaf and the mark will remain for quite some time. Very easy indoor maintenance.

Ficus Bonsai Tree Forest Group (ficus benjamina)
- Sale Price: $125.00
This popular evergreen bonsai is recommended for home or office and does well in lower or higher lighting conditions. Forest group style.
User Comments:
There are currently 0 comments.