Wire Bonsai Tree Sculpture - Windswept Style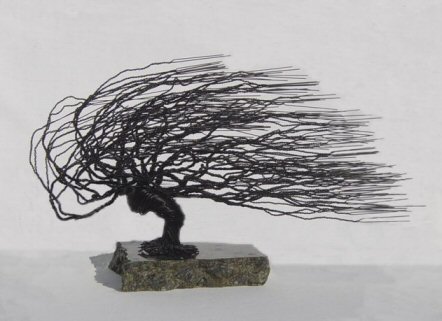 Sale Price: $325.00

From Bonsai Boy of NY
View User Comments
Wire Bonsai Tree Sculpture - Windswept StylePlease allow up to 14 days for delivery.
Made of 22 gauge black steel wire. The sculpture is created using 22 gauge wire for a finer texture. The sculpture is mounted onto the base using a bonding agent. The base is a thick, mined, polished granite stone with small circular felt pads glued beneath.
You may also be interested in these related Bonsai Trees and supplies:

Juniper - Cascade Style
- Sale Price: $39.95
This dwarf Juniper from Japan is the most popular evergreen in the U.S. When we think of a traditional bonsai and what it should look like, we think of a "Juniper Procumbens Nana". It is very hardy, long-lived, and tolerates many adverse conditions. This is an excellent tree for the beginner. Trained in the cascade style.

Flowering Japanese Mock Orange Bonsai Tree - Variegated (pittosporum tobira variegata)
- Sale Price: $44.95
The Japanese flowering Mock Orange has thick glossy evergreen leaves that are oblong and in whorls and that are creamy white and green in color. Flowers are rather small, creamy white and very fragrant and give off a fragrance similar to that of the Orange Blossom, hence the name Mock-Orange. At maturity they produce a leathery fruit called a capsule. Does very well indoors.

Norfolk Island Pine Bonsai Tree Water/Land Container - Medium (Araucaria Heterophila)
- Sale Price: $49.95
Open and airy conifer (cone bearing) with light green foliage turning darker with age. One of the best known trees from the South Pacific. Will tolerate warm temperatures and does not even object to dryness, although it does not like glaring sunshine. Decorates well for any holiday or season. Forest tree group - each 5 years old. Very easy indoor care. Our tree is planted in a water pot which has a well on one side that holds water. We include a fisherman figure along with a fishing pole and ceramic fish. The entire landscape is arranged in an attractive, glazed, imported ceramic container.

Northern White Cedar - Three Tree Forest Group (thuja occidentalis - Teddy)
- Sale Price: $65.95
The Northern White Cedar is an evergreen coniferous tree in the Cypress family and is widely cultivated for use as an ornamental plant know as arborvitae. This dwarf evergreen tree has finely textured, almost feathery fan-like foliage. Can be gently sheared for perfect spheres or allowed to mature naturally into an oval shape. Blue green coloring is accented with bronze in temperature extremes. The bark is red/brown, furrowed and peels in narrow, longitudal strips. The cones are slender, yellow/green ripening to brown. Three tree forest group. Great for bonsai as it is a slow growing evergreen. Keep outdoors.

Green Emerald Ficus Bonsai Tree (ficus microcarpa)
- Sale Price: $275.00
Also known as Green Island Ficus. Has oval to roundish dark green shiny leaves. Easily forms rosetts at the end of its branches if kept trimmed. Branches and fruits well and easily develops aerial roots when kept humid. Different than other ficus varieties in that the leaves are much thicker. Does well in lower or higher lighting conditions. One of our favorites. Easy indoor maintenance.
User Comments:
There are currently 0 comments.