Wire Bonsai Tree Sculpture - Windswept Style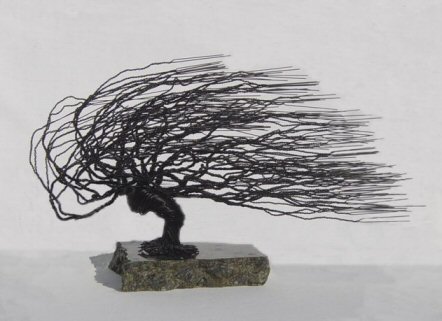 Sale Price: $325.00

From Bonsai Boy of NY
View User Comments
Wire Bonsai Tree Sculpture - Windswept StylePlease allow up to 14 days for delivery.
Made of 22 gauge black steel wire. The sculpture is created using 22 gauge wire for a finer texture. The sculpture is mounted onto the base using a bonding agent. The base is a thick, mined, polished granite stone with small circular felt pads glued beneath.
You may also be interested in these related Bonsai Trees and supplies:

Flowering Brush Cherry - Ball Style (eugenia myrtifolia)
- Sale Price: $89.95
Also called Syzygium Paniculatum, Australian Brush Cherry. Has small handsome evergreen leaves which are firm and glossy and the flowers are white. If it receives enough light, the leaves will develop red highlights. Does well indoors.

Liquid Chelated Iron 1 oz. concentrate
- Sale Price: $5.95
Liquid chelated iron concentrate. Cures and prevents iron deficiencies in the soil while reversing or reducing the pale green or yellow discoloration associated with chlorosis. Provides iron in a form that is immediately available to vegetation, remaining in the soil for extended feedings. Our liquid chelated iron is economical and safe. Dilute 1/2 teaspoon per quart of water and apply monthly.

Professional Bonsai Shears Made in Japan
- Sale Price: $89.95
This professional quality bonsai shears, with its hand-forged, high carbon steel construction and laminated blades will give years of easy use and superior performance. A life-time tool designed for pruning branches, cutting capillary roots and for general bonsai trimming. 7-1/4" overall. Made in Japan.

Willow Leaf Ficus Bonsai Tree Water/Land Container - Small (Ficus Nerifolia/Salisafolia)
- Sale Price: $39.95
Also knows as Mexicana Ficus. Elongated, light green leaves have a striking resemblance to the popular weeping willow tree. This tree does particularly well indoors in low, moderate or high lighting conditions. Potted in a Land/Water Pot.

Shimpaku Bonsai Tree Bonsai Tree - Large (shimpaku itoigawa)
- Sale Price: $64.95
Itoigawa is a highly prized cultivar of Shimpaku from Japan. It grows tighter and fuller and is the most compact of all the Shimpaku Junipers.
User Comments:
There are currently 0 comments.