Wire Bonsai Tree Sculpture - Windswept Style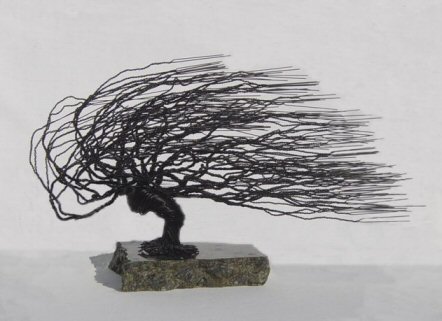 Sale Price: $325.00

From Bonsai Boy of NY
View User Comments
Wire Bonsai Tree Sculpture - Windswept StylePlease allow up to 14 days for delivery.
Made of 22 gauge black steel wire. The sculpture is created using 22 gauge wire for a finer texture. The sculpture is mounted onto the base using a bonding agent. The base is a thick, mined, polished granite stone with small circular felt pads glued beneath.
You may also be interested in these related Bonsai Trees and supplies:

Ficus Retusa Bonsai Tree with Banyan Roots (ficus retusa)
- Sale Price: $250.00
Also known as Banyan Fig and Taiwan Ficus. The Retusa has small, dark green leaves which alternate up the stem and which are more oval than the Benjamina. Grey to reddish bark dotted with small, horizontal flecks, similar to tiger-like markings. Has a heavy, exposed roots and tiered branching which give the appearance of great age. The Retusa is among the most tolerant, versatile and trouble-free bonsai trees for indoor use.

Lime Sulphur - 500 ml (17 oz)
- Sale Price: $43.95
Lime Sulphur is a premium sterilizer, jin and shari preservation solution imported from Japan. Used for jin and shari to prevent rotting and to brighten and lighten dead wood color. Apply in mid day with a brush. Do not dilute. Protect the pot and all surfaces from drips and run-off. Apply twice a year one month apart. Repeat for two years and as needed for the woods preservation. As with all chemicals, extreme caution should be used.

Juniper Bonsai Tree - Trained (juniper procumbens nana)
- Sale Price: $89.95
This dwarf Juniper from Japan is the most popular evergreen in the U.S. When we think of a traditional bonsai and what it should look like we think of a "Juniper Procumbens Nana". They are very hardy, long-lived and tolerate many adverse conditions. Trained style.

Ceramic Figurine - Man Reading Book 1.5 x 1.5 x 2.0
- Sale Price: $6.95
Man reading book - Chinese Mud figurine with fine detail.

Ceramic Bonsai Pot - Oval 20.25x16.5x5.0
- Sale Price: $142.75
Imported glazed Chinese pot, blue color, oval
User Comments:
There are currently 0 comments.