Wire Bonsai Tree Sculpture Beaded Mini Tree - 4x4x4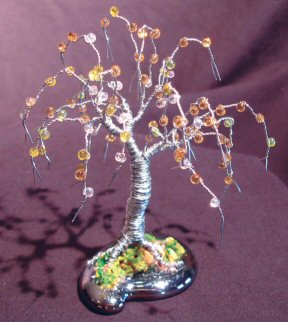 Sale Price: $54.95

From Bonsai Boy of NY
View User Comments
Wire Bonsai Tree Sculpture Beaded Mini Tree - 4x4x4
Made of 26 gauge galvanized steel wire with yellow, white and green colored fringe beads that are wired onto each branch. Mounted on a piece of free formed solid glass using sea sand and a bonding agent. The sand and small pebbles are painted with India ink to look like moss covered earth. This is best viewed in direct sunlight or bright indoor light.
You may also be interested in these related Bonsai Trees and supplies:

Humidity/Drip Bonsai Tray (Extra Extra Large) 14.50x10.5x1.0
- Sale Price: $16.95
A finishing, practical addition to your bonsai living sculpture. Not only do they visually enhance the placement of your tree, but humidity/drip trays make watering simple, provide essential humidity for your tree and protect furniture from stain and damage.

Green Emerald Ficus Bonsai Tree-Root over Rock (ficus microcarpa)
- Sale Price: $99.95
Also known as Green Island Ficus. Has oval to roundish dark green shiny leaves. Easily forms rosetts at the end of its branches if kept trimmed. Branches and fruits well and easily develops aerial roots when kept humid. Different than other Ficus varieties in that the leaves are much thicker. Does well in lower, medium or high lighting conditions. Ours has exposed roots growing over a textured rock and down into the soil. One of our favorites. Very easy indoor maintenance.

Yellow Orchid Select Yellow Phalaenopsis
- Sale Price: $49.95
The single stem Phalaenopsis is perhaps the most popular of all orchids. It's beauty and elegance is unsurpassed and it's blooms last for up to 2 months or more. Our select orchid comes with up to 6 blooms. Sending orchids is possibly the most thoughtful way to brighten someone's day. Orchids are exotic and many people are honored to receive them. We include the name of the orchid and easy care instructions so the orchid will be appreciated for a very long time. This white Phalaenopsis is sure to be enjoyed by anyone who receives it. This is the perfect indoor flowering orchid for the beginner. Arrives in flower and bud.

Architectural Birdhouse (Mid-Western Dweller)
- Sale Price: $99.95
Our Architectural Birdhouse is handcrafted of kiln-dried hardwood, exterior grade ply-board and western red cedar or pine shingles for the roof. The finish is a non-toxic, oil-based paint. Our birdhouse is intended for use with wildlife and, therefore, no pressure-treated wood or harmful chemicals have been applied. The cedar shingles will naturally patina to a silvery gray color with sun bleaching. Structure is built with aeration slats for good air circulation. Solid wood with resin detail.

Metal Ant Garden Pot Decoration with Movable Head and Attached Pot Holder 16.0 x 5.0 x 14.0 Tall
- Sale Price: $24.95
Metal Ant Garden Pot Decoration. Ant lying on his stomach on a leaf reading a book.
User Comments:
There are currently 0 comments.