Wire Bonsai Tree Sculpture Beaded Mini Tree - 4x4x4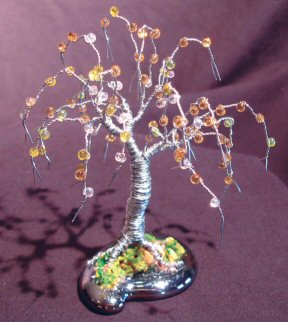 Sale Price: $54.95

From Bonsai Boy of NY
View User Comments
Wire Bonsai Tree Sculpture Beaded Mini Tree - 4x4x4
Made of 26 gauge galvanized steel wire with yellow, white and green colored fringe beads that are wired onto each branch. Mounted on a piece of free formed solid glass using sea sand and a bonding agent. The sand and small pebbles are painted with India ink to look like moss covered earth. This is best viewed in direct sunlight or bright indoor light.
You may also be interested in these related Bonsai Trees and supplies:

Boy Atop Elephant Reading Book
- Sale Price: $8.95
Imported miniature figurine of Boy Atop Elephant Reading Book. Measures 2.25"x1.0"x2.0"

Sago Palm Bonsai Tree - Exotic (Cycas Revoluta)
- Sale Price: $49.95
The Sago Palm is a long-lived, exotic palm that tolerates neglect but thrives with attention. Adapts to indirect light or full sun and has a wide temperature range from 15 to 120 degrees F. A slow growth rate allows indoor specimens to remain in the same container indefinitely. Treat as a cactus: water when almost dry and seldom fertilize.

Open Terrarium Indoor Foliage Arrangement
- Sale Price: $49.95
A terrarium is a small, sometimes enclosed, glass or plastic container in which living plants are kept for display. Generally they are miniature, self-sufficient environments. Closed terrariums recycle moisture with high efficiency, but they are more prone to disease than are open terrariums. Open terrariums should be lightly watered or heavily misted every few days and will do very well on a windowsill or on a table near a window.

Flowering Tropical Boxwood Bonsai Tree - Small (neea buxifolia)
- Sale Price: $24.95
Neea buxifolia is a versatile tree native to Puerto Rico. Commonly spelled "Nia", the botanical name is "Neea". It is a member of the Bouganvillea family with leaves about one quarter inch long and oblong with a rounded apex. This tree is especially attractive during the growing season due to the deep red color of its new shoots. Neea bears small flowers in spring and summer followed by little red mature fruit in summer. Great for indoors.

Metal Impression Tags Package of 4
- Sale Price: $1.95
Long lasting and easy to use impression metal tags. Use to identify your tree or important dates such as when last repotted or 1000's of other uses. Just write on metal with any ball point pen or stylus, on either side or both sides. Attach with enclosed wire fasteners. Will not rust or deteriorate with age. Great for outdoor conditions.
User Comments:
There are currently 0 comments.