Willow Leaf Ficus Bonsai Tree - Small (Ficus Nerifolia/Salisafolia)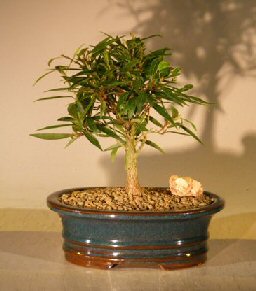 Sale Price: $24.95

From Bonsai Boy of NY
View User Comments
Willow Leaf Ficus Bonsai Tree - Small (Ficus Nerifolia/Salisafolia)
Also knows as Mexicana Ficus. Elongated, light green leaves have a striking resemblance to the popular weeping willow tree. This tree does particularly well indoors in low, moderate or high lighting conditions.
You may also be interested in these related Bonsai Trees and supplies:

Gift Certificate - Personalized Tree Pictorial
- Sale Price: $.00
A Personalized Tree Pictorial Gift Certificate You Customize

Wire Bonsai Tree Sculpture Beaded Mini Tree - 4x4x4
- Sale Price: $54.95
Made of 26 gauge galvanized steel wire with yellow, white and green colored fringe beads that are wired onto each branch. Mounted on a piece of free formed solid glass using sea sand and a bonding agent. The sand and small pebbles are painted with India ink to look like moss covered earth. This is best viewed in direct sunlight or bright indoor light.

Flowering Holly (ilex)
- Sale Price: $49.95
The holly has alternate glossy leaves, typically with a spiny toothed or serrated leaf margin. It has four small petal flowers from greenish to white in color. Pollination is done by bees or other insects. The fruit is a berry, usually red to brown but rarely green or yellow which ripens in winter. Offers a pleasant color contrast with the color of the foliage. The fruits are a very important food source for birds and other wild life and in winter the Ilex is an important source of food and shelter.

Japanese Kingsville Boxwood - Medium (buxus microphylla 'compacta')
- Sale Price: $49.95
Native to Japan the Kingsville Boxwood has the smallest leaf of all Boxwoods. The leaves are light green and it has excellent branching charachteristics. Can form round compact shape or shape by trimming. Good for indoors. A great bonsai recommended by the Brooklyn Botanical Gardens.

Ceramic Bonsai Pot - Rectangle Unglazed
- Sale Price: $10.75
Rectangle, unglazed, ceramic bonsai pot. Measures 6.5"x4.5"x2.125"
User Comments:
There are currently 0 comments.