Willow Leaf Ficus Bonsai Tree - Root over Rock (nerifolia/salicafolia)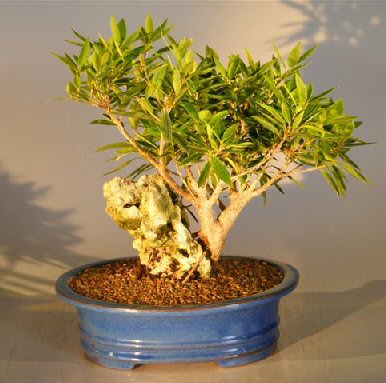 Sale Price: $150.00

From Bonsai Boy of NY
View User Comments
Willow Leaf Ficus Bonsai Tree - Root over Rock (nerifolia/salicafolia)
Also known as Mexicana Ficus. Elongated, light green leaves have a striking resemblance to the popular Weeping Willow tree. Our tree is grown with the roots growing over a large textured rock and then down into the soil. This tree does particularly well indoors.
You may also be interested in these related Bonsai Trees and supplies:

Shimpaku Juniper Bonsai Tree - Trained (juniper chinensis)
- Sale Price: $125.00
The Japanese Shimpaku Juniper is a needled evergreen tolerant of a wide variety of soils and is dioecious which means that there are separate male and female plants. Shimpaku is a naturally irregular vase shaped Juniper which we have trained in the traditional bonsai style that has a curved trunk and deadwood in the form of Shari. The Shimpaku has attractive year round foliage and its dark green needles are soft to the touch. Very popular and easy to care for bonsai.

Flowering Persian Lime Bonsai Tree (citrus latifolia)
- Sale Price: $89.95
Also known as Tahiti Lime or Bears Lime. It is the primary citrus fruit grown commercially in the United States and sold simply as a lime. The fruit it about 6 cm in diameter, often with slightly nippled ends and is usually sold quite green. They are less acidic and are absent of thorns and seeds. Not as bitter as other limes. Good for indoors.

Pin Oak Bonsai Tree ('quercus palustris')
- Sale Price: $59.95
The Pin Oak is native to North America and is a medium sized deciduous tree. The leaves of the Pin Oak have 5 or 7 pointed lobes. Each lobe has 5-7 bristle-tipped teeth. The sinuses (air filled spaces) are typically u-shaped and extremely deep cut. In fact, there is approximately the same amount of air filled area as actual leaf area. The acorns, borne in a shallow, thin cap, are bitter. Great tree for bonsai. Deciduous - keep outdoors.

Monterey - 20 (Preserved - Not a living tree)
- Sale Price: $279.00
Please allow up to 14 days for delivery.

Colorado Lava Rock Granules Bonsai Tree Soil Additive - 5 lbs. (2.5 Qts.)
- Sale Price: $12.95
Lava Rock is a naturally occurring volcanic cinder that has a porous structure which makes the material lightweight and highly moisture retentive. Incorporate into your bonsai soil mix to increase drainage (aeration). It will absorb up to 40% of its weight in water. Small lava rock (1/4 to 3/8 inch) is the best "sand" component around because it is "sharp" and has very irregular surfaces.
User Comments:
There are currently 0 comments.