Weeping Atlas Blue Cedar Bonsai Tree (cedrus glauca pendula)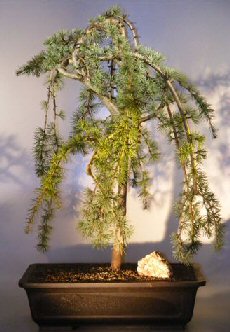 Sale Price: $295.00

From Bonsai Boy of NY
View User Comments
Weeping Atlas Blue Cedar Bonsai Tree (cedrus glauca pendula)
The Atlas cedar, is a cedar that is native to the Atlas mountains of Algeria, and Morocco. Similar in all characteristics to the other varieties of Lebanon Cedar, with differences that are hard to discern. The size of the cones tend to be somewhat smaller. Has Glaucous Curtains of evergreen blue needles dangle from arching scaffold branches which can be wired to choice. Hardy. Keep outdoors.
You may also be interested in these related Bonsai Trees and supplies:

Juniper Bonsai Tree - Medium (Juniper Procumbens nana)
- Sale Price: $36.95
This dwarf Juniper from Japan is the most popular evergreen in the U.S. When we think of a traditional bonsai and what it should look like, we think of a "Juniper Procumbens Nana." It is very hardy, long-lived, and tolerates many adverse conditions. This is an excellent tree for the beginner.

White Orchid Select White Phalaenopsis
- Sale Price: $49.95
The single stem Phalaenopsis is perhaps the most popular of all orchids. It's beauty and elegance is unsurpassed and it's blooms last for up to 2 months or more. Our select orchid comes with up to 6 blooms. Sending orchids is possibly the most thoughtful way to brighten someone's day. Orchids are exotic and many people are honored to receive them. We include the name of the orchid and easy care instructions so the orchid will be appreciated for a very long time. This white Phalaenopsis is sure to be enjoyed by anyone who receives it. This is the perfect indoor flowering orchid for the beginner. Arrives in flower and bud.

Bonsai Tools - Entire Set Set Includes 6 Tools
- Sale Price: $112.70
Set Includes 6 Tools
A. - Satsuki Shears #1068.
Made in China. Long narrow body which is great for trimming buds and reaching deep with minimum disturbance to the surrounding foliage. It's finger rings are also well suited for smaller hands. 3/4" blades, 7" overall. $14.95 each.
Buy separately
.
B. - Concave Branch Cutter #1070.
(Beginner) This razor sharp tool is designed for cutting branches flush to the trunk. The resulting wound can then heal over quickly with very little scarring. Will keep a sharp edge indefinitely when properly used and cared for. The Concave Cutter is the single most important tool for bonsai use and for which there is no substitute. The 8" version is considered the basic size. 8" overall. Similar in appearance to above. Made in China. $23.95 each.
Buy separately
.
C. - Bonsai Wire Cutters #1071.
Made in China. These wire cutters are designed specifically for removing bonsai wire. Although enthusiasts new to bonsai sometimes substitute standard wire cutters, these are designed with a rounded head to prevent damage to the trunk and branches when removing wires. The jaws of the cutters cut the wire symmetrically and cleanly. Highly recommended for bonsai enthusiast. 8" overall. $19.95 each.
Buy separately
.
D. - Shears #1073. (Beginner) Made in China. Similar in appearance to above $19.95 each. Buy separately.
E. - Spherical Knob Cutter #1445.
Made in China. Designed to remove trunk knobs and roots. The head is shaped like a ball, hence the name "spherical." It produces a hollow, circular cut that heals quickly with a minimum of scarring. 7" long. $16.95.
Buy separately
.
F. - Single Point Root Rake #1075
Used to separate small and medium sized capillary roots during transplanting and repotting. Has a single steel prong. Simple, yet a necessary tool for bonsai enthusiasts. 8" overall. $16.95 each.
Buy separately
.

Ceramic Bonsai Pot With Attached Humidity/Drip tray- Professional Series Rectangle 6.37 x 4.75 x 2.625
- Sale Price: $15.50
Imported ceramic bonsai pot.

Ceramic Bonsai Pot - Rectangle 6.125 x 5.0 x 2.125
- Sale Price: $7.25
Imported ceramic bonsai pot
User Comments:
There are currently 0 comments.