Weeping Atlas Blue Cedar Bonsai Tree (cedrus glauca pendula)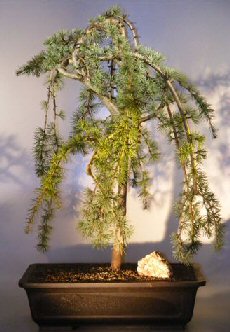 Sale Price: $295.00

From Bonsai Boy of NY
View User Comments
Weeping Atlas Blue Cedar Bonsai Tree (cedrus glauca pendula)
The Atlas cedar, is a cedar that is native to the Atlas mountains of Algeria, and Morocco. Similar in all characteristics to the other varieties of Lebanon Cedar, with differences that are hard to discern. The size of the cones tend to be somewhat smaller. Has Glaucous Curtains of evergreen blue needles dangle from arching scaffold branches which can be wired to choice. Hardy. Keep outdoors.
You may also be interested in these related Bonsai Trees and supplies:

Bonsai Training Wire 2.0 mm Aluminum Training Wire
- Sale Price: $9.95
Brown anodized aluminum training wire. 100 gram, 5" coil.

Ceramic Figurine: Man with Bonsai Tree Holding a Brush
- Sale Price: $9.95
Ceramic Figurine: Man with Bonsai Tree Holding a Brush.

Juniper Bonsai Tree - Trained (juniper procumbens nana)
- Sale Price: $89.95
This dwarf Juniper from Japan is the most popular evergreen in the U.S. When we think of a traditional bonsai and what it should look like we think of a "Juniper Procumbens Nana". They are very hardy, long-lived and tolerate many adverse conditions. Trained style.

Green Emerald Ficus Bonsai Tree-Root over Rock (ficus microcarpa)
- Sale Price: $99.95
Also known as Green Island Ficus. Has oval to roundish dark green shiny leaves. Easily forms rosetts at the end of its branches if kept trimmed. Branches and fruits well and easily develops aerial roots when kept humid. Different than other Ficus varieties in that the leaves are much thicker. Does well in lower, medium or high lighting conditions. Ours has exposed roots growing over a textured rock and down into the soil. One of our favorites. Very easy indoor maintenance.

Norfolk Island Pine - Stone Landscape Scene
- Sale Price: $49.95
Open and airy conifer (cone bearing) with light green foliage turning darker with age. One of the best known trees from the South Pacific. Will tolerate warm temperatures and does not even object to dryness, although it does not like glaring sunshine. Decorates well for any holiday or season. Forest tree group - each 5 years old. Very easy indoor care. The rocks selected for this unusual arrangement are imported and washed in acid making them strikingly unique. We then cut and cement the rocks to one side of the pot, leaving an ample well between them to hold water. A ceramic bridge is cemented to the rocks on either side. A pagoda figurine is also added and cemented to the stone located above the bridge. To complete the scene, we cement a miniature, glazed, mud figurine fisherman overlooking the water holding a fishing pole and fish. On the opposite side of this restful scene, we have selected for planting, the ever popular Norfolk Island Pine. The entire landscape is arranged in an attractive, glazed, imported ceramic container.
User Comments:
There are currently 0 comments.