Trident Maple Bonsai Tree (Acer Buergerianum)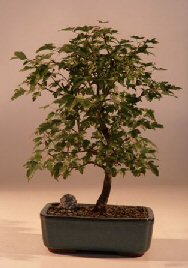 Sale Price: $49.95

From Bonsai Boy of NY
View User Comments
Trident Maple Bonsai Tree (Acer Buergerianum)
Well known for the superb colors of its foliage in autumn (fall). The bark is a dappled pale brown and exfoliates with age revealing a grey orange and brown color. The small leaves (which resist scorching during drought) have 3 short lobes close together - hence the name Tri-dent. The spring flowers are inconspicuous and the new growth is often bronze to purple. Deciduous - Keep outdoors. Available 12 months a year. Will have no foliage during winter months.
You may also be interested in these related Bonsai Trees and supplies:

Miniature Figurine: Man Holding a Fan Sitting on a Rock - Brown Color - Fine Detail
- Sale Price: $5.95
Miniature Figurine Man Holding a Fan Sitting on a Rock - Brown Color - Fine Detail

Plastic 3 Piece Scoop Set
- Sale Price: $12.95
Heavy duty three (3) piece scoop set. Handy for mixing bonsai soil and for scooping bonsai soil into bonsai pots. Imported from Japan.

Willow Leaf Ficus Bonsai Tree - Stone Landscape Scene (Ficus Nerifolia/Salisafolia)
- Sale Price: $59.95
Also knows as Mexicana Ficus. Elongated, light green leaves have a striking resemblance to the popular weeping willow tree. This tree does particularly well indoors in low, moderate or high lighting conditions. The rocks selected for this unusual arrangement are imported and washed in acid making them strikingly unique. We then cut and cement the rocks to one side of the pot, leaving an ample well between them to hold water. A ceramic bridge is cemented to the rocks on either side. A pagoda figurine is also added and cemented to the stone located above the bridge. To complete the scene, we cement a miniature, glazed, mud figurine fisherman overlooking the water holding a fishing pole and fish. On the opposite side of this restful scene, we have selected for planting the ever popular Willow Leaf bonsai. The entire landscape is arranged in an attractive, glazed, imported ceramic container.

Ceramic Bonsai Pot 12.0x12.0x9.0 Tall Floral Design - Brown/Yellow Color Square
- Sale Price: $60.00
Ceramic Bonsai Pot

Flowering Gardenia (jasminoides miami supreme)
- Sale Price: $250.00
The irresistible very large white fragrant flowers of this Gardenia explode with blooms spasmatically throughout the year. Ours is grafted onto a wild gardenia rootstock because its own root system cannot support its huge flowers. The tree has dark waxy foliage and makes a beautiful contrast to the delicate flowers. Great for indoors. Best to place outdoors in summer and fall for optimum blooms.
User Comments:
There are currently 0 comments.