Superthrive Vitamins and Hormones - 1/2 oz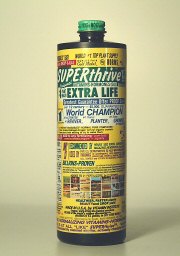 Sale Price: $6.95

From Bonsai Boy of NY
View User Comments
Superthrive Vitamins and Hormones - 1/2 oz
Saves plants from waiting to make many life-process complexes, carbon, hydrogen and oxygen. 50 vitamins and hormones in one for immediate use by plants, Add one drop to each gallon of fertilizer mixture and apply when watering.
1/2 oz.
You may also be interested in these related Bonsai Trees and supplies:

Lime Sulphur - 500 ml (17 oz)
- Sale Price: $43.95
Lime Sulphur is a premium sterilizer, jin and shari preservation solution imported from Japan. Used for jin and shari to prevent rotting and to brighten and lighten dead wood color. Apply in mid day with a brush. Do not dilute. Protect the pot and all surfaces from drips and run-off. Apply twice a year one month apart. Repeat for two years and as needed for the woods preservation. As with all chemicals, extreme caution should be used.

Ceramic Bonsai Pot With Attached Humidity/Drip tray-Professional Series Oval 8.5 x 6.5 x 3.5
- Sale Price: $19.25
Imported ceramic bonsai pot.

Liquid Miracle Gro Fertilizer - 8 oz.
- Sale Price: $7.95
Liquid Miracle Grow fertilizer "with chelated iron". Excellent all purpose fertilizer. Apply diluted dosage by using 3 drops per quart of water.

Ficus Retusa Bonsai Tree with Banyan Roots (ficus retusa)
- Sale Price: $250.00
Also known as Banyan Fig. The Retusa has small, dark green leaves which are more oval than the Benjamina. Grey to reddish bark dotted with small horizontal flecks, similar to tiger-like markings. Has a heavy trunk, tiered layered style branches and extensive banyan roots. The Retusa is among the most tolerant, versatile and trouble-free bonsai trees for indoor use.

Ceramic Humidity/Drip Bonsai Tray- Black Round 12.0 x 1.0 Tall
- Sale Price: $19.95
A finishing, practical addition to your bonsai living sculpture. Not only do they visually enhance the placement of your tree, but humidity drip trays make watering simple, provide essential humidity for your tree and protect furniture from stain and damage.
User Comments:
There are currently 0 comments.