Slow Release Bonsai Fertilizer Pellets 15% Off Regular Price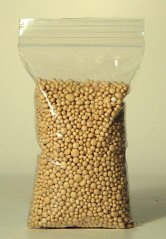 Sale Price: $5.90

From Bonsai Boy of NY
View User Comments
Slow Release Bonsai Fertilizer Pellets 15% Off Regular Price
Just sprinkle 1/4 teaspoon of these slow release bonsai fertilizer pellets on top of the soil. Each time you water, the tree will receive nutrients. One application will last 3-6 months.
4oz.
You may also be interested in these related Bonsai Trees and supplies:

Oriental Ficus Bonsai Tree Coiled Trunk with Banyan Roots (benjamina 'orientalis')
- Sale Price: $125.00
Fig species which is native to south and southeast Asia. This evergreen tree is particularly good for bonsai training as they produce sturdy trunks, good branching characteristics and shiny leaves. Best to trim the leaves in early summer as the new leaves that subsequently grow will be smaller than the ones removed. Ours is trained in the coiled trunk style. Great for indoors.

Limequat Bonsai Tree (limequat eustis)
- Sale Price: $89.95
Eustis is a hybrid between West Indian Lime and Marumi Kumquat which flowers and fruits readily on its own. It is an easy to maintain small lime tree requiring less heat than other lime varieties. The Limequat is a small tree with an open habit and heavy crops of small, oval, light colored yellow fruit. The flesh is juicy and acidic and has the same aromatic flavor as the lime with about 8 seeds per fruit. Eustis makes an attractive ornamental and the fruit can be used as a lemon or lime substitute. Great for indoors.

Bonsai Wound Dressing - 200 Gram Tube Seals Bonsai Tree Wounds
- Sale Price: $21.95
Traditional dressing used to seal tree wounds against insects, disease, and weather to speed healing and minimize the shock of wounds when styling bonsai or repairing branches. Quick drying sealant containing insecticides and fungicides that forms a smooth, dark cover that remains quite flexible.

Gift Certificate - Personalized Tree Pictorial
- Sale Price: $.00
A Personalized Tree Pictorial Gift Certificate You Customize

Flowering Gardenia (jasminoides miami supreme)
- Sale Price: $250.00
The irresistible very large white fragrant flowers of this Gardenia explode with blooms spasmatically throughout the year. Ours is grafted onto a wild gardenia rootstock because its own root system cannot support its huge flowers. The tree has dark waxy foliage and makes a beautiful contrast to the delicate flowers. Great for indoors. Best to place outdoors in summer and fall for optimum blooms.
User Comments:
There are currently 0 comments.