Shimpaku Juniper Bonsai Tree - Trained (juniper chinensis)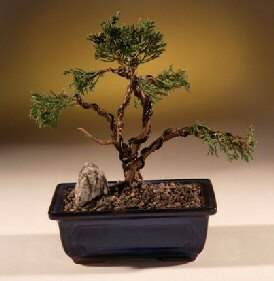 Sale Price: $89.95

From Bonsai Boy of NY
View User Comments
Shimpaku Juniper Bonsai Tree - Trained (juniper chinensis)
The Japanese Shimpaku Juniper is a needled evergreen tolerant of a wide variety of soils and is dioecious which means that there are separate male and female plants. Shimpaku is a naturally irregular vase shaped Juniper which we have trained in the traditional bonsai style that has a shaped trunk and deadwood in the form of Shari. The Shimpaku has attractive year round foliage and its dark green needles are soft to the touch. Very popular and easy to care for bonsai.
You may also be interested in these related Bonsai Trees and supplies:

Mistletoe Fig Bonsai Tree (ficus diversifolia)
- Sale Price: $39.95
There are over 800 species of the Ficus genus. The Mistletoe Fig is one of the few Ficus that will fruit in the house. The leaves bear tiny brown spots and the pea sized fruits appear all year round and are inedible. The oval shaped leaves look just like mistletoe. Very slow grower. Excellent for indoors.

Preserved Juniper Bonsai Tree - Upright Style Potted in Chinese Bonsai Container (Preserved - Not a living tree)
- Sale Price: $79.95
Please allow up to 14 days for delivery.

Flowering Tropical Red Azalea (rhododendron 'red vivid')
- Sale Price: $39.95
Vivid is an attractive evergreen azalea introduced by Arnold Arboretum in Boston in the 1800's by Charles Sandler. It is a strong red color the blooms early mid-season. A great azalea for indoors.

Japanese Five Needle Pine Seeds
- Sale Price: $4.95
Propagation instructions are included with each packet.

Chinese Elm Bonsai Tree-Extra Large (Ulmus Parvifolia)
- Sale Price: $129.95
Has small evergreen leaves. Hardy with excellent branching characteristics. Has a twisted trunk and some exposed roots which give the appearance of great age. Semi-deciduous
User Comments:
There are currently 0 comments.