Shimpaku Juniper Bonsai Tree Planted on a Rock Slab (juniperus chinensis)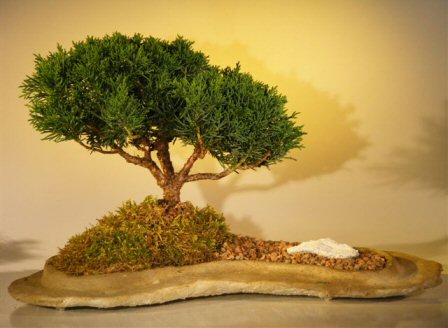 Sale Price: $99.95

From Bonsai Boy of NY
View User Comments
Shimpaku Juniper Bonsai Tree Planted on a Rock Slab (juniperus chinensis)
Also known as the Chinese Juniper. This needled evergreen is tolerant of a wide variety of soils and is dioecious which means that there are male and female plants. Shimpaku is a naturally irregular vase shaped Juniper which we grow into a trditional upright style. The Shimpaku has attractive year round foliage and its dark green needles are soft to the touch. Very popular and easy to care for bonsai.
You may also be interested in these related Bonsai Trees and supplies:

Ceramic Bonsai Pot - Rectangle Unglazed
- Sale Price: $14.50
Rectangle, unglazed, ceramic bonsai pot. Measures 8"x6.125"x2.5"

Glazed Green Buddha Figurine
- Sale Price: $4.95
Green Glass Buddha Figurine

Mica Bonsai Pot - Oval 20.5x14.5x5.5
- Sale Price: $89.95
Mica pots imported from Korea are made of 80% mica, 15% polyethelene and 5% graphite. Mica has a natural ability to stabilize the temperature of the soil in the pots. This promotes healthy root activity during the growing season and protects during the cold periods. These pots are extremely durable and will withstand the elements for years. The pot has a wide lip and is dark brown in color.

Desktop Grow Light
- Sale Price: $54.95
This incredible computer-operated, 9-watt, 1200 lumens, full spectrum fluorescent lamp is the answer to all of your indoor gardening needs. An automatic computerized timer turns the lamp on and off, simulating the day length in cycle with the four seasons. The soil moisture sensor eliminates the guesswork about watering. To vary the light intensity or accommodate larger plants, the telescoping stem adjusts from 7" to 14" high. The base of the lamp that holds the pot measures 6" x 7". The textured pebbled base serves as both a catch basin and humidity/drip tray. A wonderful gift to keep bonsai thriving whether at home, office or classroom. Instructions included. Grow lamp bulb also included.

Wire Bonsai Tree Sculpture Willow Mini Tree - 4x4x4
- Sale Price: $49.95
Made of 26 gauge galvanized steel wire. Mounted on a piece of free formed solid glass using sea sand and a bonding agent. The sand and small pebbles are painted with India ink to look like moss covered earth.
User Comments:
There are currently 0 comments.