Shimpaku Bonsai Tree Bonsai Tree - Large (shimpaku itoigawa)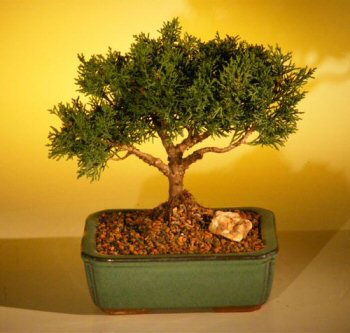 Sale Price: $64.95

From Bonsai Boy of NY
View User Comments
Shimpaku Bonsai Tree Bonsai Tree - Large (shimpaku itoigawa)
Itoigawa is a highly prized cultivar of Shimpaku from Japan. It grows tighter and fuller and is the most compact of all the Shimpaku Junipers.
You may also be interested in these related Bonsai Trees and supplies:

Ceramic Bonsai Pot With Attached Humidity/Drip Tray- Professional Series Rectangle 8.5 x 6.5 x 3.5
- Sale Price: $19.25
Imported ceramic bonsai pot.

Bonsai Apron
- Sale Price: $24.95
Our Bonsai Tree Apron is a commercial quality high resolution heat transfer product. Our image transfer produces a professional matt finish with premium Quality and Superior image resolution. Colors do not bleed and the image is sharp and crisp. Cotton full length Apron with Pockets. Wheather it's put to use outdoors or indoors, this apron will always keep you clean. 100% cotton with Teflon finish for added protection, two waist level pouch pockets with one pen pocket, 1" wide neck and waist ties, adjustable neck strap. Washing instructions 1. Machine wash in cold water. 2. Do not use bleach or fabric softner. 3. Detergents with bleach additives are not recommended. 4. Tumble dry on warm. 5. Do not iron. Do not dry clean.

Willow Leaf Ficus Bonsai Tree - Root over Rock (nerifolia/salicafolia)
- Sale Price: $150.00
Also known as Mexicana Ficus. Elongated, light green leaves have a striking resemblance to the popular Weeping Willow tree. Our tree is grown with the roots growing over a large textured rock and then down into the soil. This tree does particularly well indoors.

Ficus Retusa Bonsai Tree with Curved Shaped Trunk (ficus retusa)
- Sale Price: $295.00
Also known as Banyan Fig and Taiwan Ficus. The Retusa has small, dark green leaves which alternate up the stem and which are more oval than the Benjamina. Grey to reddish bark dotted with small, horizontal flecks, similar to tiger-like markings. Has a heavy and tiered branching which give the appearance of great age. The Retusa is among the most tolerant, versatile and trouble-free bonsai trees for indoor use.

Flowering Mount Fuji Serissa - Three Tree Forest Group (serissa foetida)
- Sale Price: $45.95
Beautiful white, star-shaped, miniature flowers. This sub-tropical variegated evergreen, which is imported from Japan blooms profusely with delicate white miniature flowers. Three tree forest group. Easy indoor maintenance. Excellent for beginners.
User Comments:
There are currently 0 comments.