Shimpaku Bonsai Tree Bonsai Tree - Large (shimpaku itoigawa)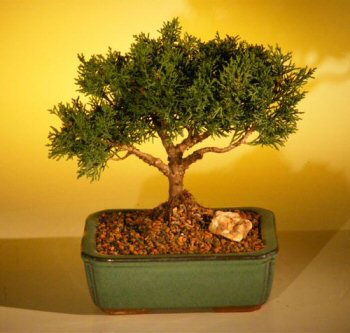 Sale Price: $64.95

From Bonsai Boy of NY
View User Comments
Shimpaku Bonsai Tree Bonsai Tree - Large (shimpaku itoigawa)
Itoigawa is a highly prized cultivar of Shimpaku from Japan. It grows tighter and fuller and is the most compact of all the Shimpaku Junipers.
You may also be interested in these related Bonsai Trees and supplies:

Pre Bonsai Baby Jade Bonsai Tree - Medium Portulacaria Afra
- Sale Price: $19.95

Flowering Plum Bonsai Tree - Large (Carissa Macrocarpa)
- Sale Price: $79.95
The Natal Dwarf Plum is a semi-tropical evergreen, bearing fragrant, star-shaped white flowers and, following pollination, dark red edible plum-shaped fruit. Easy indoor care.

Flowering Cotoneaster - Curved Trunk Style (Cotoneaster 'Lucidus')
- Sale Price: $39.95
The Cotoneaster has small, oval, dark green leaves changing to yellow, orange and red in autumn. Flowers are pale-pink, small and clustered blooming in early June. Grows an attractive, blackish pom fruit in early June, about half an inch in diameter, which ripens between September and October. The bark is tan in color and has a pattern resembling fishbone. Deciduous. Keep outdoors.

Pillow Baby Figurine - Porcelain
- Sale Price: $5.95
Porcelain Pillow Baby

Flowering Water Jasmine Bonsai Tree - Extra Large (wrightia religiosa)
- Sale Price: $125.00
The Water Jasmine, wrightia religiosa, is the material most often used for bonsai in Malaysia. It is widely planted as a hedge tree in southeast Asia countries because the wrightia is twiggy and is used for medicinal purposes. The Water Jasmine loves the heat and prefers as much direct sun as possible. It can be semi-deciduous during winter if not kept above 65 degrees Fahrenheit. The flowers are white, pendulous, and fill a room with a very lovely fragrance. Long, green bean-like seed pods follow flowering if insects pollinate the flowers.
User Comments:
There are currently 0 comments.