Round Petal Shape - Glazed Aztec Orange 8.25x6.5x3.25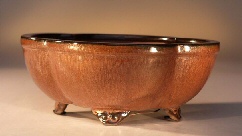 Sale Price: $15.50

From Bonsai Boy of NY
View User Comments
Round Petal Shape - Glazed Aztec Orange 8.25x6.5x3.25
Professional grade
8.25"x6.5"x3.25"
You may also be interested in these related Bonsai Trees and supplies:

Norfolk Island Pine - Stone Landscape Scene
- Sale Price: $49.95
Open and airy conifer (cone bearing) with light green foliage turning darker with age. One of the best known trees from the South Pacific. Will tolerate warm temperatures and does not even object to dryness, although it does not like glaring sunshine. Decorates well for any holiday or season. Forest tree group - each 5 years old. Very easy indoor care. The rocks selected for this unusual arrangement are imported and washed in acid making them strikingly unique. We then cut and cement the rocks to one side of the pot, leaving an ample well between them to hold water. A ceramic bridge is cemented to the rocks on either side. A pagoda figurine is also added and cemented to the stone located above the bridge. To complete the scene, we cement a miniature, glazed, mud figurine fisherman overlooking the water holding a fishing pole and fish. On the opposite side of this restful scene, we have selected for planting, the ever popular Norfolk Island Pine. The entire landscape is arranged in an attractive, glazed, imported ceramic container.

Baby Jade Bonsai Tree - Small Portulacaria Afra
- Sale Price: $24.95
This succulent bonsai, also known as the "Elephant Bush", is native to South Africa and has pale green leaves that are almost round and about one-third the size of the common Jade plant. The fleshy trunk, branches, and leaves are used to store water. An excellent bonsai tree for the home or office.

Bonsai Display Table - 12.5 Round
- Sale Price: $49.95
Bonsai display stand to show off your best bonsai.

Flowering Podocarpus Bonsai Tree - Styled (podocarpus macrophyllus)
- Sale Price: $59.95
AKA Buddhist Pine or Chinese Yew. Podocarpus is a dense evergreen with pointed, leathery, dark green leaves arranged on stiff, symmetrical branches. The tree which is unisexual, has male flowers in cones and female flowers composed of cylindrical thickened scales. The fruits often edible, are pedunculate, fleshy and brightly colored. New foliage comes in a light green color that turns darker with age. Our trees are trained in the traditional bonsai style. Grows very well albeit slowly indoors.

Hawaiian Umbrella Bonsai Tree Banyan Style (arboricola schfflera)
- Sale Price: $175.00
This is the tree that we recommend if you are inexperienced with bonsai or you do not have a green thumb. In our opinion it is one of the easiest bonsai trees to care for and is a very beautiful "trouble-free" evergreen. If you don't know which tree to purchase as a gift for someone, this is the tree to select. This versatile tree is great for home, office, dorm or anywhere and does well in low to high lighting conditions. Our tree features tiny umbrella shaped leaves forming a dense green variegated canopy. Very popular and easy indoor care. Our Hawaiian Umbrella bonsai tree with banyan roots is truly a work of art by mother nature. Anyone would be proud to own this impressive conversation piece.
User Comments:
There are currently 0 comments.