Redwood Bonsai Tree - 5 Tree Forest Group (metasequoia glyptostroboides)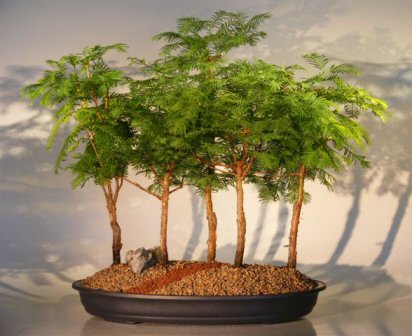 Sale Price: $225.00

From Bonsai Boy of NY
View User Comments
Redwood Bonsai Tree - 5 Tree Forest Group (metasequoia glyptostroboides)
The most exciting of the Redwoods is the Dawn Redwood, a native of Manchuria China. They were thought to be extinct, but re-discovered in the 1940's. The Dawn Redwood is a true Redwood and like our Redwoods, they are a living fossil, an isolated "relic" species from a long time ago when there were vast forests of them. Seeds were introduced in the U.S. in 1948, and they have become increasingly popular as an ornamental tree. The foliage is more lacey than our native Redwood and unlike our native Redwood, they are deciduous. In the fall the light green sprays turn yellow, then bronze, and fall off. Only the Larches do that. Keep outdoors
You may also be interested in these related Bonsai Trees and supplies:

Neem Oil Organic Pest Control Concentrate 8 Ounces
- Sale Price: $21.95
The Neem tree is considered to be one of the most promising trees of the 21st century. It has great potential in the fields of pest management, environmental protection and medicine. Used widely as a bio-pesticide for organic farming, as it repels a wide variety of pests, including the mealy bug, aphids, ants and mosquitoes. Use as a repellent and larvacide. Neem oil also controls black spot, powdery mildew and fungus. Dilute at the rate of 4 teaspoons per gallon of water. Adding a surfactant, such as liquid diswashing soap, will enhance its effectiveness. Great for all bonsai trees and household plants.

Ceramic Bonsai Pot - Rectangle 7.0 x 5.5 x 2.375
- Sale Price: $10.00
Imported ceramic bonsai pot

Mica Forest Bonsai Pot - Oval - 19.5x11.25x2.0
- Sale Price: $99.95
Mica Pota are made of 80% mica, 15% polyethelene and 5% graphite. Mica has a natural ability to stabilize the temperature of the soil in the pots. This promotes healthy root activity during the growing season and protects during the cold periods. The polyethelene bonds raw materials together and makes the pots tough and durable. Therefore the pots seldom break. Graphite gives color and prevents discoloring. Mica pots have the appearance of high quality unglazed ceramic pots but they are much less expensive.

Oriental Ficus Bonsai Tree Coiled Trunk with Banyan Roots (benjamina 'orientalis')
- Sale Price: $125.00
Fig species which is native to south and southeast Asia. This evergreen tree is particularly good for bonsai training as they produce sturdy trunks, good branching characteristics and shiny leaves. Best to trim the leaves in early summer as the new leaves that subsequently grow will be smaller than the ones removed. Ours is trained in the coiled trunk style. Great for indoors.

Ceramic Orchid Pot 5.0x5.25 Round With Attached Saucer
- Sale Price: $13.50
Imported Ceramic Orchid Pot
User Comments:
There are currently 0 comments.