Redwood Bonsai Tree - 5 Tree Forest Group (metasequoia glyptostroboides)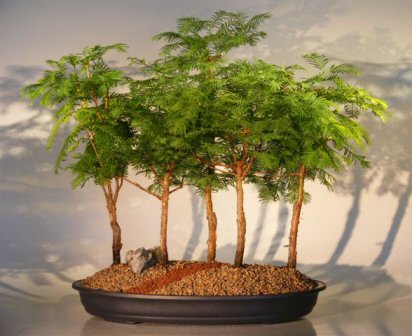 Sale Price: $225.00

From Bonsai Boy of NY
View User Comments
Redwood Bonsai Tree - 5 Tree Forest Group (metasequoia glyptostroboides)
The most exciting of the Redwoods is the Dawn Redwood, a native of Manchuria China. They were thought to be extinct, but re-discovered in the 1940's. The Dawn Redwood is a true Redwood and like our Redwoods, they are a living fossil, an isolated "relic" species from a long time ago when there were vast forests of them. Seeds were introduced in the U.S. in 1948, and they have become increasingly popular as an ornamental tree. The foliage is more lacey than our native Redwood and unlike our native Redwood, they are deciduous. In the fall the light green sprays turn yellow, then bronze, and fall off. Only the Larches do that. Keep outdoors
You may also be interested in these related Bonsai Trees and supplies:

Weeping Atlas Blue Cedar Bonsai Tree (cedrus glauca pendula)
- Sale Price: $295.00
The Atlas cedar, is a cedar that is native to the Atlas mountains of Algeria, and Morocco. Similar in all characteristics to the other varieties of Lebanon Cedar, with differences that are hard to discern. The size of the cones tend to be somewhat smaller. Has Glaucous Curtains of evergreen blue needles dangle from arching scaffold branches which can be wired to choice. Hardy. Keep outdoors.

Redwood Bonsai Tree (metasequoia glyptostroboides)
- Sale Price: $49.95
Really the most exciting of the Redwoods is the Dawn Redwood, a native of Manchuria China. Thought to be extinct, but re-discovered in the 1940's. The Dawn Redwood is a true Redwood. Like our Redwoods they are a living fossil an isolated "relic" species from a long time ago when there were vast forests of them. Seeds were introduced in the U.S. in 1948, and has been increasingly popular as an ornamental tree. The foliage is more lacey than our native Redwood but what is very different about the Dawn Redwood is that it is deciduous. In the fall the light green sprays turn yellow, then bronze, and fall off. Only the Larches do that. Keep outdoors

Ceramic Bonsai Pot - Rectangle 12.0 x 9.5 x 3.375
- Sale Price: $28.95
Imported ceramic bonsai pot

Burgundy Metal Watering Can - 2 Pints
- Sale Price: $119.95
A beautifully designed watering can imported from England which is constructed from a single piece of metal -- rolled and shaped in the unique English style. The can is supplied with a very fine brass, removable, rose which is fitted with the perforated head facing up in order to provide the most gentle spray for your bonsai, household plants or delicate seedlings.

Ceramic Bonsai Pot - Land/Water with Attached Matching Tray 8.25 x 6.0 x 3.5
- Sale Price: $13.50
Imported, glazed Chinese ceramic land/water pot. Oval, Parisian red color with attached matching tray
User Comments:
There are currently 0 comments.