Redwood Bonsai Tree - 5 Tree Forest Group (metasequoia glyptostroboides)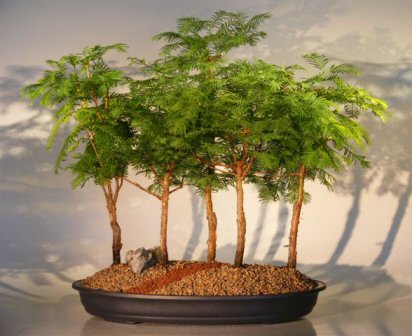 Sale Price: $225.00

From Bonsai Boy of NY
View User Comments
Redwood Bonsai Tree - 5 Tree Forest Group (metasequoia glyptostroboides)
The most exciting of the Redwoods is the Dawn Redwood, a native of Manchuria China. They were thought to be extinct, but re-discovered in the 1940's. The Dawn Redwood is a true Redwood and like our Redwoods, they are a living fossil, an isolated "relic" species from a long time ago when there were vast forests of them. Seeds were introduced in the U.S. in 1948, and they have become increasingly popular as an ornamental tree. The foliage is more lacey than our native Redwood and unlike our native Redwood, they are deciduous. In the fall the light green sprays turn yellow, then bronze, and fall off. Only the Larches do that. Keep outdoors
You may also be interested in these related Bonsai Trees and supplies:

Ceramic Orchid Pot 5.0x5.25 Square With Attached Saucer
- Sale Price: $13.50
Imported Ceramic Orchid Pot

Blue Moss Cypress Bonsai Tree Water/Land Container - Small (Chamecyparis glauca minima)
- Sale Price: $39.95
This is the tree that we recommend if you are inexperienced with bonsai or you do not have a green thumb. In our opinion it is one of the easiest bonsai trees to care for and it is a very beautiful trouble-free evergreen. If you don't know which tree to purchase as a gift for someone, this is the tree to select. Our tree features tiny umbrella shaped leaves forming a dense green canopy. On the other side of the planting is a well that holds water. We include a fisherman figurine along with a fishing pole and ceramic fish.

Flowering Orange Jasmine - Large ('murraya paniculata')
- Sale Price: $69.95
The Orange Jasmine (murraya paniculata), also known as "satinwood", is a small tree that belongs to the Rue family. The very fragrant white "orange blossom" flowers stand out against the evergreen dark foliage. This evergreen tree flowers at intervals throughout the year and produces fragrant orange jasmine scented flowers and striking bright orange-to-red fruit. It makes an outstanding indoor flowering bonsai tree due to its compact habit and dense glossy green foliage.

Shimpaku Juniper Bonsai Tree Planted on a Rock Slab (juniperus chinensis)
- Sale Price: $99.95
Also known as the Chinese Juniper. This needled evergreen is tolerant of a wide variety of soils and is dioecious which means that there are male and female plants. Shimpaku is a naturally irregular vase shaped Juniper which we grow into a trditional upright style. The Shimpaku has attractive year round foliage and its dark green needles are soft to the touch. Very popular and easy to care for bonsai.

Flowering Lavender Star Flower Bonsai Tree - Large (Grewia Occidentalis)
- Sale Price: $69.95
Evergreen tree native to Africa and Australia with 400 species worldwide. Awesome purple/mauve 1" wide flowers borne along the stem at the end of spring and then, occasionally, the rest of the year. Good indoor bonsai tree. Provide some sun to help generate blooms.
User Comments:
There are currently 0 comments.