Rectangle Display Table 9.0 x 7.0 x 2.0 Tall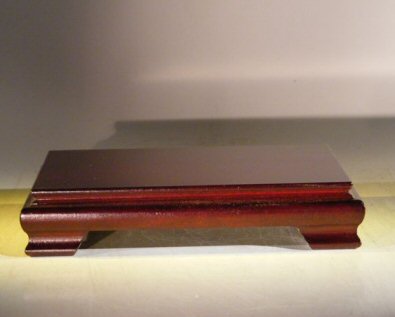 Sale Price: $59.95

From Bonsai Boy of NY
View User Comments
Rectangle Display Table 9.0 x 7.0 x 2.0 Tall
An elegant rectangle shaped oriental style wooden display table crafted from solid kiln dried spruce wood. The top of the stand is finished with a classic Ming edge and the feet are carved in the traditional Chinese design. Finished in an elegant antique distressed black lacquer finish, a lightly stained area of the wood shows through at the edges.
You may also be interested in these related Bonsai Trees and supplies:

Flowering Holly (ilex)
- Sale Price: $49.95
The holly has alternate glossy leaves, typically with a spiny toothed or serrated leaf margin. It has four small petal flowers from greenish to white in color. Pollination is done by bees or other insects. The fruit is a berry, usually red to brown but rarely green or yellow which ripens in winter. Offers a pleasant color contrast with the color of the foliage. The fruits are a very important food source for birds and other wild life and in winter the Ilex is an important source of food and shelter.

Hose Nozzle Replacement Disk
- Sale Price: $4.95
Stainless steel rosehead (water breaker) replacement disk.

Miniature Bonsai Tree Treasure Box
- Sale Price: $9.95
Miniature bonsai tree treasure box. Opens with hinge to reveal a seed inside inscribed with the word "Seed"....a reminder that even the smallest of wishes planted in your mind can lead to the most beautiful creations in life.

Ficus Retusa Bonsai Tree with Curved Shaped Trunk (ficus retusa)
- Sale Price: $295.00
Also known as Banyan Fig and Taiwan Ficus. The Retusa has small, dark green leaves which alternate up the stem and which are more oval than the Benjamina. Grey to reddish bark dotted with small, horizontal flecks, similar to tiger-like markings. Has a heavy and tiered branching which give the appearance of great age. The Retusa is among the most tolerant, versatile and trouble-free bonsai trees for indoor use.

Ceramic Bonsai Pot - Rectangle 6.0 x 4.75 x 2.0
- Sale Price: $5.95
Imported glazed rectangle pot
User Comments:
There are currently 0 comments.