Preserved Juniper Bonsai Tree - Windswept Style (Preserved - Not a living tree)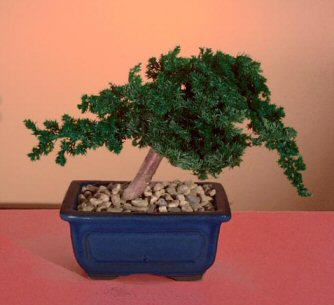 Sale Price: $49.95

From Bonsai Boy of NY
View User Comments
Preserved Juniper Bonsai Tree - Windswept Style (Preserved - Not a living tree)Please allow up to 14 days for delivery.
Neither plastic nor silk, this preserved bonsai tree has real foliage and a real wooden trunk that was carefully handcrafted and preserved to protect its natural fragrance, color and texture indefinitely. No watering, trimming or maintenance is required. With its timeless beauty evoking a feeling of nature, this accent piece accommodates any architectural setting. Our one-of-a-kind preserved bonsai is planted in a traditional glazed imported ceramic container. This is the ultimate in environmental control.
You may also be interested in these related Bonsai Trees and supplies:

Flowering Surinam Cherry Bonsai Tree (eugenia uniflora)
- Sale Price: $89.95
The Surinam Cherry is a sub-tropical evergreen with dark green ovate leaves formed in pairs. Striking red exfoliating (flaking) bark. In spring, may bear small white flowers which is followed by red edible fruit. Popular landscape tree in the southern part of the USA. Ours is trained in the broom style. Does very well indoors.

Liquid Chelated Iron 4 oz. concentrate
- Sale Price: $7.95
Liquid chelated iron concentrate. Cures and prevents iron deficiencies in the soil while reversing or reducing the pale green or yellow discoloration associated with chlorosis. Provides iron in a form that is immediately available to vegetation, remaining in the soil for extended feedings. Our liquid chelated iron is economical and safe. Dilute 1/2 teaspoon per quart of water and apply monthly.

Ceramic Bonsai Pot Rectangle - Woodlawn Green Color 8.0 x 6.0 x 2.5 Tall
- Sale Price: $9.95
Imported ceramic bonsai pot. Rectangle - Woodlawn green color.

Ceramic Bonsai Pot With Attached Humidity/Drip tray - Professional Series Rectangle 10.75 x 8.5 x 4.125
- Sale Price: $24.00
Imported ceramic bonsai pot.
Ceramic Bonsai Pot - Rectangle 6x4.5x2.25
- Sale Price: $7.95
Imported, glazed Chinese pot, green. Rectangle with indented corners.
User Comments:
There are currently 0 comments.