Ponytail Palm - Large (Beaucamea Recurvata)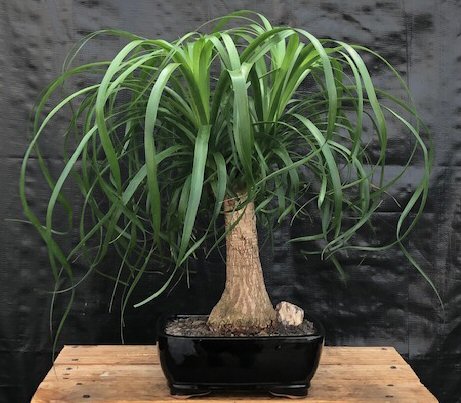 Sale Price: $79.95

From Bonsai Boy of NY
View User Comments
Ponytail Palm - Large (Beaucamea Recurvata)
The most striking feature of the Ponytail Palm is the swollen base of the trunk. The texture of the trunk looks and feels scaly like the foot of an elephant and is also known as Elephants Foot. The extraordinary thickening of the trunk serves as a water reservoir against dry spells, allowing the tree to go up to four (4) weeks without water and causing no ill effects. Excellent in low or higher lighting conditions. The Ponytail is an excellent choice for home, office or anywhere.
You may also be interested in these related Bonsai Trees and supplies:

Humidity/Drip Bonsai Tray (Large) 10.5x7.0x1.25
- Sale Price: $12.95
A finishing, practical addition to your bonsai living sculpture. Not only do they visually enhance the placement of your tree, but humidity/drip trays make watering simple, provide essential humidity for your tree and protect furniture from stain and damage.

Japanese Black Pine Bonsai Tree - Curved Trunk (pinus thunbergii)
- Sale Price: $74.95
Stiff dark green needles (3"-5" long) occur in pairs. Large, grayish-white terminal buds help distinguish it from other pines. Much sought after in bonsai and takes many years to achieve the look of a superior specimen bonsai. Hardy. Likes sun. Keep outdoors.

Podocarpus Bonsai Tree (podocarpus macrophyllus)
- Sale Price: $250.00
Aka Buddhist Pine or Chinese Yew. The Podocarpus is a dense evergreen with pointed, leathery, dark green leaves arranged on stiff, symmetrical branches. The tree which is unisexual, has male flowers in cones and female flowers composed of cylindrical thickened scales. The fruits are edible, pendiculate, fleshy and brightly colored. New floiage appears light green in color that turns darker with age. Our tree is trained in the traditional bonsai style with a curved trunk and tiered branches. Grows very well albeit slowly indoors.

Neem Oil Organic Pest Control Concentrate 8 Ounces
- Sale Price: $21.95
The Neem tree is considered to be one of the most promising trees of the 21st century. It has great potential in the fields of pest management, environmental protection and medicine. Used widely as a bio-pesticide for organic farming, as it repels a wide variety of pests, including the mealy bug, aphids, ants and mosquitoes. Use as a repellent and larvacide. Neem oil also controls black spot, powdery mildew and fungus. Dilute at the rate of 4 teaspoons per gallon of water. Adding a surfactant, such as liquid diswashing soap, will enhance its effectiveness. Great for all bonsai trees and household plants.

Glass Owl Figurine
- Sale Price: $14.95
Miniature glass Owl figurine, including black oval wooden stand with raised feet.
User Comments:
There are currently 0 comments.