Podocarpus Bonsai Tree (podocarpus macrophyllus)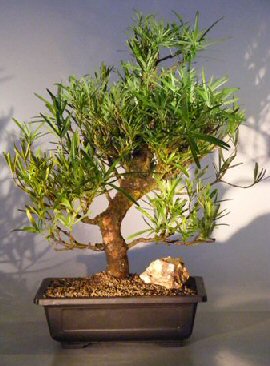 Sale Price: $295.00

From Bonsai Boy of NY
View User Comments
Podocarpus Bonsai Tree (podocarpus macrophyllus)
Also known as Buddhist Pine. Podocarpus is a dense evergreen with pointed, leathery, dark green leaves arranged on stiff symmetrical branches. The tree which is unisexual, has male flowers in cones and female flowers composed of cylindical thickened scales. The fruits are edible, pendiculate, fleshy and brightly colored. New foliage comes in a light green color that turns darker with age. Our tree is trained in the traditional bonsai style with a curved trunk and tiered branching. Grows very well albeit slowly indoors.
You may also be interested in these related Bonsai Trees and supplies:

Bonsai Training Wire 1.5 mm Aluminum Training Wire
- Sale Price: $9.95
Brown anodized aluminum training wire. 100 gram, 5" coil.

Orchid Pot with Attached Tray Blue Color 7.0 x 6.5 Tall
- Sale Price: $25.95
Ceramic orchid pot with attached tray.

Terra-Sorb Super Absorbent Hydrogel Granules
- Sale Price: $9.95
Terra-sorb hydrogel is a high quality, long lasting potassium acrylamide copolymer gel in granular form that absorbs hundreds of times its weight in water and slowly releases water into the root zone for use by plant roots. Can be used for all potted plants. The use of Terra-sorb reduces watering frequency significantly and helps prevent plant loss due to drought. Terra-sorb is safe, non-toxic and PH neutral. Great for vacation trips. Remove 25% of the existing soil in houseplants and mix 1 tsp to remaining soil and water-in well.

Ceramic Bonsai Pot - Blue Rectangle 8.0 x 6.5 x 3.0
- Sale Price: $8.95
Imported glazed rectangle pot with indented corners.

Northern White Cedar (thuja occidentalis - Teddy)
- Sale Price: $39.95
The Northern White Cedar is an evergreen coniferous tree in the Cypress family and is widely cultivated for use as an ornamental tree. This dwarf evergreen tree has finely textured, almost feathery fan-like foliage. Can be gently sheared for perfect spheres or allowed to mature naturally into an oval shape. Blue green coloring is accented with bronze in temperature extremes. The bark is red/brown, furrowed and peels in narrow, longitudal strips. The cones are slender, yellow/green ripening to brown. Great for bonsai as it is a slow growing evergreen. Keep outdoors.
User Comments:
There are currently 0 comments.