Podocarpus Bonsai Tree (podocarpus macrophyllus)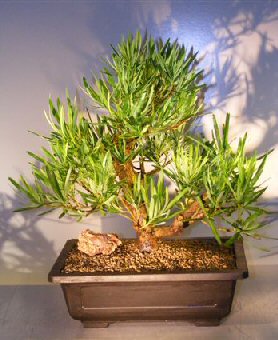 Sale Price: $250.00

From Bonsai Boy of NY
View User Comments
Podocarpus Bonsai Tree (podocarpus macrophyllus)
Aka Buddhist Pine or Chinese Yew. The Podocarpus is a dense evergreen with pointed, leathery, dark green leaves arranged on stiff, symmetrical branches. The tree which is unisexual, has male flowers in cones and female flowers composed of cylindrical thickened scales. The fruits are edible, pendiculate, fleshy and brightly colored. New floiage appears light green in color that turns darker with age. Our tree is trained in the traditional bonsai style with a curved trunk and tiered branches. Grows very well albeit slowly indoors.
You may also be interested in these related Bonsai Trees and supplies:

Flowering Mount Fuji Bonsai Tree Water/Land Container - Small (serissa foetida)
- Sale Price: $39.95
The water pot is divided into two sections. On one side we plant the flowering Mount Fuji Serissa which blooms easily and is great for indoors. On the other side of the planting is a well. We include a fisherman figurine, along with a fishing pole, line and ceramic fish.

Ceramic Bonsai Pot - Oval 5.0 x 4.25 x 2.75
- Sale Price: $4.95
Imported glazed oval pot

Mica Bonsai Pot - Oval 20.5x14.5x5.5
- Sale Price: $89.95
Mica pots imported from Korea are made of 80% mica, 15% polyethelene and 5% graphite. Mica has a natural ability to stabilize the temperature of the soil in the pots. This promotes healthy root activity during the growing season and protects during the cold periods. These pots are extremely durable and will withstand the elements for years. The pot has a wide lip and is dark brown in color.

Hawaiian Umbrella Bonsai Tree - 9 Tree Forest Group (arboricola schefflera)
- Sale Price: $149.95
This is the tree that we recommend if you are inexperienced with bonsai or you do not have a green thumb. In our opinion it is one of the easiest bonsai trees to care for and is a very beautiful trouble-free evergreen. If you do not know which tree to purchase as a gift for someone, this is the tree to select. This versatile tree is great for the home, office dorm or anywhere and does well in lower or higher lighting conditions. We grow 9 trees together in a pot to give the appearance of a grove or forest scene.

Professional Bonsai Wire Cutters Made in Japan
- Sale Price: $129.95
These wire cutters are designed specifically for removing bonsai wire. Although enthusiasts new to bonsai sometimes substitute standard wire cutters, these are designed with a rounded head to prevent damage to the trunk and branches when removing wires. The jaws of the cutters cut the wire symmetrically and cleanly. Highly recommended for bonsai enthusiast. 8.0" overall.
User Comments:
There are currently 0 comments.