Oval Ceramic Bonsai Pot 14.125x11.0x4.0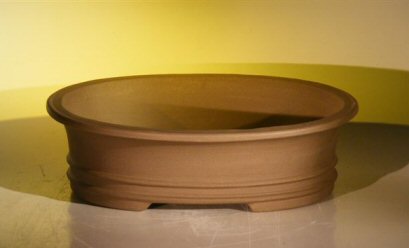 Sale Price: $36.00

From Bonsai Boy of NY
View User Comments
Oval Ceramic Bonsai Pot 14.125x11.0x4.0
Oval unglazed pot with four raised feet
You may also be interested in these related Bonsai Trees and supplies:

Flowering Sea Grape (coccoloba uvifera)
- Sale Price: $49.95
This Sea Grape is an evergreen flowering tree in the buckwheat family that has large, round, leathery leaves with a primary vein that has a red color extending from the base and the entire leaf turns red as it ages. This Sea Grape is native to the Caribbean and tropical America. The bark is smooth and yellowish. In late summer it bears green fruit ( 0.75) in diameter, in large, grade-like clusters. The fruit gradually ripens to a purplish color. Each contains a pit that constitutes most of the fruit. Great for indoors. Be sure to keep warm and in a sunny location.

Baby Jade Bonsai Tree - Cascade Style Large (Portulacaria Afra)
- Sale Price: $145.00
This succulent bonsai, also known as the "Elephant Bush", is native to South Africa and has pale green leaves that are almost round and about one-third the size of the common Jade plant. The fleshy trunk, branches, and leaves are used to store water. Trained in the cascade style. An excellent bonsai tree for the home or office.

Ficus Retusa Bonsai Tree with Curved Shaped Trunk (ficus retusa)
- Sale Price: $295.00
Also known as Banyan Fig and Taiwan Ficus. The Retusa has small, dark green leaves which alternate up the stem and which are more oval than the Benjamina. Grey to reddish bark dotted with small, horizontal flecks, similar to tiger-like markings. Has a heavy and tiered branching which give the appearance of great age. The Retusa is among the most tolerant, versatile and trouble-free bonsai trees for indoor use.

Monterey - Double Trunk-Preserved Bonsai Tree (Preserved - Not a living tree)
- Sale Price: $99.95
Please allow up to 14 days for delivery.

Juniper Bonsai Tree (juniper procumbens 'nana')
- Sale Price: $89.95
This dwarf Juniper from Japan is the most popular evergreen in the U.S.A. When we think of a traditional bonsai and what they should look like, we think of a "Juniper Procumbens Nana". They are very hardy, long-lived and tolerate many adverse conditions. This is an excellent tree for the beginner.
User Comments:
There are currently 0 comments.