Oriental Ficus Bonsai Tree Banyan Style (benjamina 'orientalis')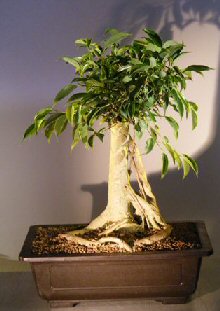 Sale Price: $150.00

From Bonsai Boy of NY
View User Comments
Oriental Ficus Bonsai Tree Banyan Style (benjamina 'orientalis')
Our unique specimen bonsai features extensive banyan roots growing down into the soil. This impressive broadleaf, trouble-free evergreen has smaller leaves than the Benjamina. Very easy indoor maintenance.
You may also be interested in these related Bonsai Trees and supplies:

Wire Bonsai Tree Sculpture - Copper Oak With Hammered Leaves 19Hx18Wx18D
- Sale Price: $649.00
Made of 20 and 26 gauge solid copper wire. The interior of the sculpture is composed of the heavier wire for strength. The outer layers are created using the thinner wire for a finer texture. The ends of every twig are hammered flat to create the leaves. This piece has already begun to patina producing a soft green color. The base is a very heavy 8"x1.5" solid clear glass container. The sculpture is mounted into the base using a bonding agent mixed with sea sand and small pebbles. The sea sand and smaller pebbles are painted yellow, green and white and giving the effect of moss.

Hawaiian Umbrella Bonsai Tree Banyan Style (arboricola schfflera)
- Sale Price: $140.00
This is the tree that we recommend if you are inexperienced with bonsai or you do not have a green thumb. In our opinion it is one of the easiest bonsai trees to care for and is a very beautiful "trouble-free" evergreen. If you don't know which tree to purchase as a gift for someone, this is the tree to select. This versatile tree is great for home, office, dorm or anywhere and does well in low to high lighting conditions. Our tree features tiny umbrella shaped leaves forming a dense green variegated canopy. Very popular and easy indoor care. Our Hawaiian Umbrella bonsai tree with banyan roots is truly a work of art by mother nature. Anyone would be proud to own this impressive conversation piece.

Mini Shoji Screen With Glass Framed Pictures of Panda Bears on Both Sides
- Sale Price: $29.95
Mini shoji screen with glass framed pictures of panda bears on both sides.

Oriental Ficus Bonsai Tree Coiled Trunk with Banyan Roots (benjamina 'orientalis')
- Sale Price: $125.00
Fig species which is native to south and southeast Asia. This evergreen tree is particularly good for bonsai training as they produce sturdy trunks, good branching characteristics and shiny leaves. Best to trim the leaves in early summer as the new leaves that subsequently grow will be smaller than the ones removed. Ours is trained in the coiled trunk style. Great for indoors.

Mugo Pine (pinus mugo woods pillar)
- Sale Price: $125.00
A dwarf upright conifer with evergreen needles. Growth habit is very compact and columnar. Hardy. Keep outdoors.
User Comments:
There are currently 0 comments.