Open Terrarium Indoor Foliage Arrangement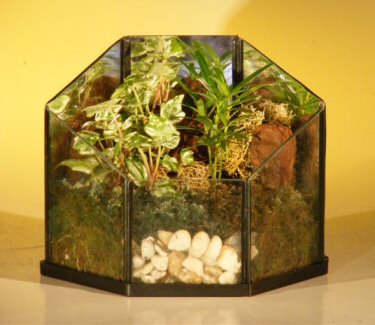 Sale Price: $49.95

From Bonsai Boy of NY
View User Comments
Open Terrarium Indoor Foliage Arrangement
A terrarium is a small, sometimes enclosed, glass or plastic container in which living plants are kept for display. Generally they are miniature, self-sufficient environments. Closed terrariums recycle moisture with high efficiency, but they are more prone to disease than are open terrariums. Open terrariums should be lightly watered or heavily misted every few days and will do very well on a windowsill or on a table near a window.
You may also be interested in these related Bonsai Trees and supplies:

Mica Bonsai Pot - Round - 15.5x 4.5
- Sale Price: $134.95
Mica Pots imported from Korea are made of 80% Mica, 15% Polyethelene and 5% Graphite. Mica has a natural ability to stabilize the temperature of the soil in the pots. This promotes healthy root activity during the growing season and protects during the cold periods. These pots are extremely durable and will withstand the elements for years. The pot has a wide lip and is dark brown in color.

Flowering Sea Grape (coccoloba uvifera)
- Sale Price: $49.95
This Sea Grape is an evergreen flowering tree in the buckwheat family that has large, round, leathery leaves with a primary vein that has a red color extending from the base and the entire leaf turns red as it ages. This Sea Grape is native to the Caribbean and tropical America. The bark is smooth and yellowish. In late summer it bears green fruit ( 0.75) in diameter, in large, grade-like clusters. The fruit gradually ripens to a purplish color. Each contains a pit that constitutes most of the fruit. Great for indoors. Be sure to keep warm and in a sunny location.

Hawaiian Umbrella Bonsai Tree - Small - In Lava Rock (arboricola schefflera 'luseanne')
- Sale Price: $39.95
Real Hawaiian lava rock is hand selected to provide a happy home for your Schefflera Luseanne bonsai. Schefflera Luseanne are extra special, patented trees that stay smaller and more compact than the ordinary varieties. Place in a bright window or on a countertop. Best to keep some water in a humidity/drip tray/saucer and fertilize monthly at half the manufacturers recommended strength with a water soluble fertilizer found in your local garden shop or on our website. With reasonable care your volcano bonsai should last for years.

Olive Bonsai Tree (olea europaea little ollie)
- Sale Price: $44.95
Also known as Common Olive or European Olive. Silvery leaves and white bark make this a very interesting looking tree. This unique tree produces the edible olive that is also used to make olive oil. To encourage fruiting, keep at 35F for several weeks during winter. Olea are often used as shade trees or planted in groves. Produces flowers on second year's branch growth. Transplants best in summer. Tolerates poor soil, heat, drought and loves the sun. Excellent for indoors.

Bonsai Pro Fertilizer
- Sale Price: $16.95
Bonsai Pro concentrate fertilizer provides the right balance of nutrients for healthy growth. It does not cause undesirable salt buildup in your growing medium. It is a professional formulation containing all essential macro and micro nutrient minerals for healthy bonsai. All elements are in one simple solution. Just like nature, with bonsai pro you feed your bonsai with each watering. Use with all container plants.
User Comments:
There are currently 0 comments.