Open Terrarium Indoor Foliage Arrangement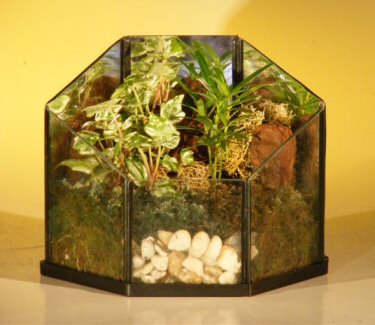 Sale Price: $49.95

From Bonsai Boy of NY
View User Comments
Open Terrarium Indoor Foliage Arrangement
A terrarium is a small, sometimes enclosed, glass or plastic container in which living plants are kept for display. Generally they are miniature, self-sufficient environments. Closed terrariums recycle moisture with high efficiency, but they are more prone to disease than are open terrariums. Open terrariums should be lightly watered or heavily misted every few days and will do very well on a windowsill or on a table near a window.
You may also be interested in these related Bonsai Trees and supplies:

Flowering Surinam Cherry Bonsai Tree (eugenia uniflora)
- Sale Price: $89.95
The Surinam Cherry is a sub-tropical evergreen with dark green ovate leaves formed in pairs. Striking red exfoliating (flaking) bark. In spring, may bear small white flowers which is followed by red edible fruit. Popular landscape tree in the southern part of the USA. Ours is trained in the broom style. Does very well indoors.

Japanese Red Pine Seeds
- Sale Price: $4.95
Propagation instructions are included with each packet.

Professional Bonsai Soil - 2 lbs. (1 Qt.)
- Sale Price: $6.95
Those who practice the fine art of bonsai have known for years the very special qualities that professional bonsai soil imparts to soil mixes. Its unique properties help provide free passage of air and water to root systems while significantly reducing soil compaction. This unique bonsai soil is produced by expanding and vitrifying selected shale in a rotary kiln at temperatures in excess of 2000 degrees F. This process makes the soil sterile and environmentally inert. It is a natural non-toxic, highly absorptive ceramic granule with a generally neutral PH. It is dimensionally stable and will not degrade like other amending products. There is no need for it to be re-applied year after year. A good bonsai soil profile is approximately 25% water, 25% air and 50% solid particulate matter. However, when soils are compacted, an imbalance occurs. Solid particles are pressed together, and water and air are squeezed out. With less pore space, soils become too dense for the movement of air, water and nutrients, and the favorable environment for the beneficial microbial activity necessary in a healthy growing medium, is lost. Our professional bonsai soil absorbs excess water during rain or watering, then slowly releases this excess water as the soil dries acting in effect like a time release capsule. Use as a blend with your soil mix or by itself.

Ceramic Rabbit Figurine - 1.0
- Sale Price: $1.95
Ceramic Rabbit figurine - 1.0".

Blue Moss Cypress Bonsai Tree Chamecyparis glauca minima)
- Sale Price: $29.95
Very attractive feathery blue foliage. Develops a nice trunk and forms natural broom style. May be shaped into pom-poms or tradition style if desired. Does well in a cool window during the winter. Imported from Japan. Easy care.
User Comments:
There are currently 0 comments.