Northern White Cedar (thuja occidentalis - Teddy)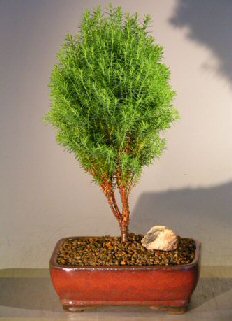 Sale Price: $39.95

From Bonsai Boy of NY
View User Comments
Northern White Cedar (thuja occidentalis - Teddy)
The Northern White Cedar is an evergreen coniferous tree in the Cypress family and is widely cultivated for use as an ornamental tree. This dwarf evergreen tree has finely textured, almost feathery fan-like foliage. Can be gently sheared for perfect spheres or allowed to mature naturally into an oval shape. Blue green coloring is accented with bronze in temperature extremes. The bark is red/brown, furrowed and peels in narrow, longitudal strips. The cones are slender, yellow/green ripening to brown. Great for bonsai as it is a slow growing evergreen. Keep outdoors.
You may also be interested in these related Bonsai Trees and supplies:

Two Dragon Turtle Miniature Figurines 5.0x2.5
- Sale Price: $14.95
Two dragon turtle miniature figurines

Oriental Ficus Coiled Bonsai Tree - Small (ficus benjamina 'orientalis')
- Sale Price: $39.95
Fig species which is native to South and South-East Asia. This evergreen tree is particularly good for bonsai training as they produce sturdy trunks, good branching charachteristics and shiny leaves. Best to trim in early summer as the new leaves that subsequently grow will be smaller than the ones removed. Ours is trained in the coiled trunk style. Great for indoors year-round, the brighter the location, the more compact the growth.

Mini Artificial Topiary
- Sale Price: $2.95
Mini artificial topiary, used as decoration or as cardholder.

Mistletoe Fig - Cascade Style (ficus diversifolia)
- Sale Price: $150.00
There are over 800 species of the Ficus genus. The Mistletoe Fig is one of the few Ficus that will fruit in the house. The leaves bear tiny brown spots and the pea sized fruits appear all year round and are inedible. The oval shaped leaves look just like mistletoe. Very slow grower. Excellent for indoors.

Juniper Bonsai Tree - Trained (juniper procumbens nana)
- Sale Price: $89.95
This dwarf Juniper from Japan is the most popular evergreen in the U.S. When we think of a traditional bonsai and what it should look like we think of a "Juniper Procumbens Nana". They are very hardy, long-lived and tolerate many adverse conditions. Trained style.
User Comments:
There are currently 0 comments.