Northern White Cedar (thuja occidentalis - Teddy)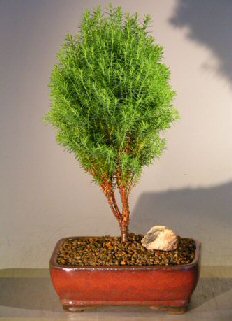 Sale Price: $39.95

From Bonsai Boy of NY
View User Comments
Northern White Cedar (thuja occidentalis - Teddy)
The Northern White Cedar is an evergreen coniferous tree in the Cypress family and is widely cultivated for use as an ornamental tree. This dwarf evergreen tree has finely textured, almost feathery fan-like foliage. Can be gently sheared for perfect spheres or allowed to mature naturally into an oval shape. Blue green coloring is accented with bronze in temperature extremes. The bark is red/brown, furrowed and peels in narrow, longitudal strips. The cones are slender, yellow/green ripening to brown. Great for bonsai as it is a slow growing evergreen. Keep outdoors.
You may also be interested in these related Bonsai Trees and supplies:

Hawaiian Umbrella Bonsai Tree - Lava Rock In Bonsai Pot (arboricola schefflera luseanne)
- Sale Price: $32.95
Real Hawaiian lava rock is hand selected to provide a happy home for your Schefflera Luseanne bonsai. Schefflera Luseanne are extra special, patented trees that stay smaller and more compact than the ordinary varieties. The roots grow through and over the lava rock and down into the soil. With reasonable care, your volcano bonsai should last for years.

One dozen(12) Black Tumbled Zen Stones
- Sale Price: $6.95
Decorative black tumbled shiny / glossy zen stones of varying sizes.

Colorado Lava Rock Granules Bonsai Tree Soil Additive - 5 lbs. (2.5 Qts.)
- Sale Price: $12.95
Lava Rock is a naturally occurring volcanic cinder that has a porous structure which makes the material lightweight and highly moisture retentive. Incorporate into your bonsai soil mix to increase drainage (aeration). It will absorb up to 40% of its weight in water. Small lava rock (1/4 to 3/8 inch) is the best "sand" component around because it is "sharp" and has very irregular surfaces.

Ceramic Pagoda Lantern - 3 x 3 x 2.75 tall
- Sale Price: $15.95
Imported Japanese "sandstone" Ceramic Pagoda. Terrific at the base of, or along side, your bonsai tree to create a picturesque landscape, or simply display on a shelf.

Rapeseed Cake Organic Fertilizer
- Sale Price: $10.95
Our rapeseed Maruta brand is manufactured in Japan and contains no animal products, including bonemeal. Nearly impossible to overfeed, as it is long-lasting. Replace every 50 days in summer and 100 days in winter. Each cake is approximately 1.0" x 1.0" in diameter. Apply 1 or 2 cakes for average size container. Will not deteriorate. Free shipping with tree order.
User Comments:
There are currently 0 comments.