Northern White Cedar (thuja occidentalis - Teddy)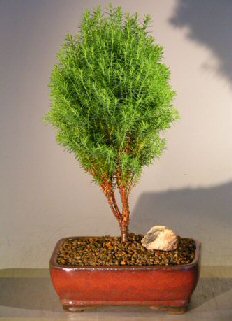 Sale Price: $39.95

From Bonsai Boy of NY
View User Comments
Northern White Cedar (thuja occidentalis - Teddy)
The Northern White Cedar is an evergreen coniferous tree in the Cypress family and is widely cultivated for use as an ornamental tree. This dwarf evergreen tree has finely textured, almost feathery fan-like foliage. Can be gently sheared for perfect spheres or allowed to mature naturally into an oval shape. Blue green coloring is accented with bronze in temperature extremes. The bark is red/brown, furrowed and peels in narrow, longitudal strips. The cones are slender, yellow/green ripening to brown. Great for bonsai as it is a slow growing evergreen. Keep outdoors.
You may also be interested in these related Bonsai Trees and supplies:

Humidity/Drip Tray Bonsai Pebbles - Large 3.0 lbs.
- Sale Price: $14.95
It is a good idea to add water to your bonsai humidity/drip tray. It is also a good idea to raise your bonsai pot out of the water by lining your tray with River pebbles.

Black Olive Bonsai Tree (bucida spinosa)
- Sale Price: $59.95
Native to the Caribbean and parts of Florida. Not the edible Olive that we know and love, but does produce a small, black seed-capsule. An evergreen tree with a smooth trunk and has a very dense, full canopy. The lush, dark bluish/green, leathery leaves can be over 2" long and are clustered at branch tips, sometimes mixed with 1" long spines found along the branches. Naturally grows erratically in all directions forming a diamond-like lace. Loves the sun and heat. Do not expose to temperatures below 40F. Great for indoors.

Ficus Bonsai Tree 3 Tree Forest Group- Variegated (ficus benjamina)
- Sale Price: $52.95
The Ficus Benjamina is an indoor tropical bonsai tree that is easy to care for. The Benjamina has evergreen leaves with a splash of yellow which is called "variegated". The leaf size can be reduced by trimming. Trimming will also keep the trees tight and compact as will direct sun. Three tree forest group. Excellent for indoors.

Ceramic Bonsai Pot Round Fluted Shape - 6.0 x 3.5
- Sale Price: $11.95
Ceramic Bonsai Container

Olive Bonsai Tree (olea europaea little ollie)
- Sale Price: $44.95
Also known as Common Olive or European Olive. Silvery leaves and white bark make this a very interesting looking tree. This unique tree produces the edible olive that is also used to make olive oil. To encourage fruiting, keep at 35F for several weeks during winter. Olea are often used as shade trees or planted in groves. Produces flowers on second year's branch growth. Transplants best in summer. Tolerates poor soil, heat, drought and loves the sun. Excellent for indoors.
User Comments:
There are currently 0 comments.