Northern White Cedar (thuja occidentalis - Teddy)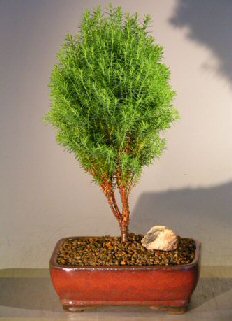 Sale Price: $39.95

From Bonsai Boy of NY
View User Comments
Northern White Cedar (thuja occidentalis - Teddy)
The Northern White Cedar is an evergreen coniferous tree in the Cypress family and is widely cultivated for use as an ornamental tree. This dwarf evergreen tree has finely textured, almost feathery fan-like foliage. Can be gently sheared for perfect spheres or allowed to mature naturally into an oval shape. Blue green coloring is accented with bronze in temperature extremes. The bark is red/brown, furrowed and peels in narrow, longitudal strips. The cones are slender, yellow/green ripening to brown. Great for bonsai as it is a slow growing evergreen. Keep outdoors.
You may also be interested in these related Bonsai Trees and supplies:

Juniper - Cascade Style
- Sale Price: $39.95
This dwarf Juniper from Japan is the most popular evergreen in the U.S. When we think of a traditional bonsai and what it should look like, we think of a "Juniper Procumbens Nana". It is very hardy, long-lived, and tolerates many adverse conditions. This is an excellent tree for the beginner. Trained in the cascade style.

Japanese Kingsville Boxwood - Medium (buxus microphylla 'compacta')
- Sale Price: $49.95
Native to Japan the Kingsville Boxwood has the smallest leaf of all Boxwoods. The leaves are light green and it has excellent branching charachteristics. Can form round compact shape or shape by trimming. Good for indoors. A great bonsai recommended by the Brooklyn Botanical Gardens.

Japanese green Maple Bonsai Tree Seeds
- Sale Price: $4.95
Propagation instructions are included with each packet.

Japanese Kingsville Boxwood Planted on a Rock Slab
- Sale Price: $125.00
Native to Japan, the Kingsville Boxwood is an extremely slow growing tree. It has the smallest leaf of all Boxwoods which is why it is sought after for bonsai. The Kingsville Boxwood is an evergreen tree with light green leaves and has excellent branching characteristics. A great indoor bonsai recommended by the Brooklyn Botanical Gardens.

Fukien Tea Bonsai Tree Three Tree Forest Group (ehretia microphylla)
- Sale Price: $39.95
Native to the Fujan province of China. This tree has small white flowers that can bloom at any time. The foliage is dark green and small in size. The flowers turn into red berries that turn darker with age. Loves the heat and does great indoors.
User Comments:
There are currently 0 comments.