Norfolk Island Pine - With Decorations (araucaria heterophila) (Available During Month of December Only)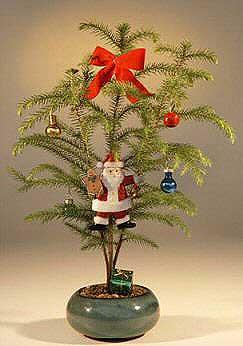 Sale Price: $35.95

From Bonsai Boy of NY
View User Comments
Norfolk Island Pine - With Decorations (araucaria heterophila) (Available During Month of December Only)
Open and airy conifer (cone bearing) with light green foliage turning darker with age. One of the best known trees from the South Pacific. Will tolerate warm temperatures and does not even object to dryness,although it does not like glaring sunshine. We grow them in groups of three (3) in a pot and trim the branches by hand (thumb and index finger). Comes complete with decorations for the holiday season.
You may also be interested in these related Bonsai Trees and supplies:

Flowering Tangerine Citrus Bonsai Tree - Seedless (kishu mandarin)
- Sale Price: $89.95
Historically named Tangerine from Tangier, Morocco, the port from which the first tangerines were

Chinese Flowering White Serissa Bonsai Tree of a Thousand Stars (Serissa Japonica)
- Sale Price: $44.95
Tree of a Thousand Stars. The Japonica has somewhat elongated spoon shaped, shiny green leaves. It is a twiggy tree that grows tighter with shearing. This northern Chinese Serissa has small white trumpet shaped blossoms with a full upright canopy. Popular indoor flowering bonsai tree.

Colorado Lava Rock Granules Bonsai Tree Soil Additive - 2 lbs. (1 Qt.)
- Sale Price: $6.95
Lava Rock is a naturally occurring volcanic cinder that has a porous structure which makes the material lightweight and highly moisture retentive. Incorporate into your bonsai soil mix to increase drainage (aeration). It will absorb up to 40% of its weight in water. Small lava rock (1/4 to 3/8 inch) is the best "sand" component around because it is "sharp" and has very irregular surfaces.

Liquid Chelated Iron 4 oz. concentrate
- Sale Price: $7.95
Liquid chelated iron concentrate. Cures and prevents iron deficiencies in the soil while reversing or reducing the pale green or yellow discoloration associated with chlorosis. Provides iron in a form that is immediately available to vegetation, remaining in the soil for extended feedings. Our liquid chelated iron is economical and safe. Dilute 1/2 teaspoon per quart of water and apply monthly.

Ceramic Bonsai Pot - Land/Water with Attached Matching Tray 10.0 x 7.5 x 3.5
- Sale Price: $18.00
Imported, glazed Chinese ceramic land/water pot. Oval, beige color with attached matching tray
User Comments:
There are currently 0 comments.