Norfolk Island Pine Tree Forest Group In Lava Rock (araucaria heterophila)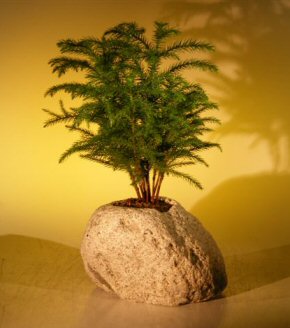 Sale Price: $39.95

From Bonsai Boy of NY
View User Comments
Norfolk Island Pine Tree Forest Group In Lava Rock (araucaria heterophila)
Open and airy conifer (cone bearing) with light green foliage turning darker with age. One of the best know trees from the South Pacific. Will tolerate warm temperatures and does not even object to dryness, although it does not like glaring sunshine. Decorates well for any holiday or season. Very easy indoor care.
You may also be interested in these related Bonsai Trees and supplies:

Mica Forest Bonsai Pot - Oval - 19.5x11.25x2.0
- Sale Price: $99.95
Mica Pota are made of 80% mica, 15% polyethelene and 5% graphite. Mica has a natural ability to stabilize the temperature of the soil in the pots. This promotes healthy root activity during the growing season and protects during the cold periods. The polyethelene bonds raw materials together and makes the pots tough and durable. Therefore the pots seldom break. Graphite gives color and prevents discoloring. Mica pots have the appearance of high quality unglazed ceramic pots but they are much less expensive.

Juniper Stone Landscape Four Tree Forest Scene (juniper procumbens nana)
- Sale Price: $350.00
This dwarf Juniper from Japan is the most popular evergreen in the U.S. When we think of a traditional bonsai and what it should look like, we think of a "Juniper Procumbens Nana". They are very hardy, long-lived, and tolerate many adverse conditions. This is an excellent tree for the beginner.

Artificial Christmas Bonsai Tree-Undecorated-15 Tall
- Sale Price: $9.95
Burlap root ball.

Miniature Chinese Boat Figurine with Fisherman
- Sale Price: $7.95
Charming, imported miniature Chinese Boat Figurine with fisherman and two ducks.

Flowering Parrot's Beak- Medium (gmelina philippensis)
- Sale Price: $49.95
Parrot's Beak, or Gmelina (pronounced with a silent G) has leaves which vary from oval to ivy or "duck foot" shape. It has exotic flowers occasionally which are comprised of yellow blooms which emerge at the end of a tube-like structure of overlapping bracts. The flower resembles a Parrot's Beak, hence the name. The flower pod has one seed. The fruit is fleshy, smooth, yellow, pear-shaped and about 2 centimeters long. Parrot's Peak is native to the Philipine Islands, India and Southeast Asia. Cold tolerant to lower 30s.
User Comments:
There are currently 0 comments.