Norfolk Island Pine - Stone Landscape Scene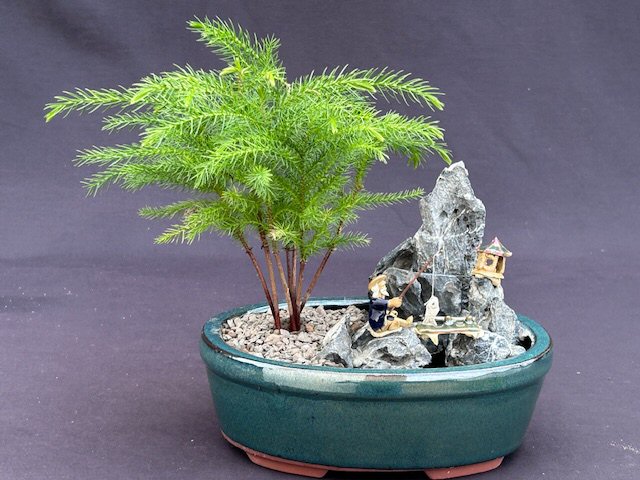 Sale Price: $49.95

From Bonsai Boy of NY
View User Comments
Norfolk Island Pine - Stone Landscape Scene
Open and airy conifer (cone bearing) with light green foliage turning darker with age. One of the best known trees from the South Pacific. Will tolerate warm temperatures and does not even object to dryness, although it does not like glaring sunshine. Decorates well for any holiday or season. Forest tree group - each 5 years old. Very easy indoor care. The rocks selected for this unusual arrangement are imported and washed in acid making them strikingly unique. We then cut and cement the rocks to one side of the pot, leaving an ample well between them to hold water. A ceramic bridge is cemented to the rocks on either side. A pagoda figurine is also added and cemented to the stone located above the bridge. To complete the scene, we cement a miniature, glazed, mud figurine fisherman overlooking the water holding a fishing pole and fish. On the opposite side of this restful scene, we have selected for planting, the ever popular Norfolk Island Pine. The entire landscape is arranged in an attractive, glazed, imported ceramic container.
You may also be interested in these related Bonsai Trees and supplies:

Ceramic Bonsai Pot - Oval 8.0 x 6.25 x 2.5
- Sale Price: $12.00
Imported ceramic bonsai pot

Himalayan Cedar Bonsai Tree (cedrus deodara)
- Sale Price: $295.00
Conifer cone and bearing with reddish - brown barrel shaped cones. Has silvery green needles with cream hued tips evergreen with an amazingly soft texture. Mature foliage is gray-green. Hardy. Keep outdoors.

Ceramic Bonsai Pot - Rectangle Unglazed 8x6.125x2.5
- Sale Price: $10.75
Rectangle, unglazed, ceramic bonsai pot. Measures 8"x6.125"x2.5"

Flowering Lemon Bonsai Tree (meyer lemon)
- Sale Price: $89.95
Sweet California Meyer Lemon. This tree always has something going on, either it is in fruit or flower and sometimes both. It thrives in nearly every climate, as long as it is brought indoors before freezing. Evergreen leaves with wonderful fragrant large size fruit. Spectacular array of purplish-white flowers with a wonderful aromatic scent. The Meyer Lemon is a cross between a true lemon and a Mandarin orange. The fruit is yellow and rounder than a true lemon and is sweeter and has a less acidic flavor than the common Lisbon or Eureka grocery store varieties. Great for indoors.

Shimpaku Juniper Bonsai Tree - Trained (juniper chinensis)
- Sale Price: $89.95
The Japanese Shimpaku Juniper is a needled evergreen tolerant of a wide variety of soils and is dioecious which means that there are separate male and female plants. Shimpaku is a naturally irregular vase shaped Juniper which we have trained in the traditional bonsai style that has a shaped trunk and deadwood in the form of Shari. The Shimpaku has attractive year round foliage and its dark green needles are soft to the touch. Very popular and easy to care for bonsai.
User Comments:
There are currently 0 comments.