Norfolk Island Pine Bonsai Tree Water/Land Container - Medium (Araucaria Heterophila)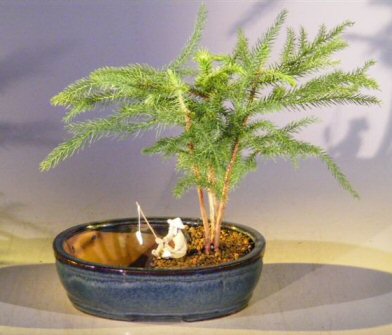 Sale Price: $49.95

From Bonsai Boy of NY
View User Comments
Norfolk Island Pine Bonsai Tree Water/Land Container - Medium (Araucaria Heterophila)
Open and airy conifer (cone bearing) with light green foliage turning darker with age. One of the best known trees from the South Pacific. Will tolerate warm temperatures and does not even object to dryness, although it does not like glaring sunshine. Decorates well for any holiday or season. Forest tree group - each 5 years old. Very easy indoor care. Our tree is planted in a water pot which has a well on one side that holds water. We include a fisherman figure along with a fishing pole and ceramic fish. The entire landscape is arranged in an attractive, glazed, imported ceramic container.
You may also be interested in these related Bonsai Trees and supplies:

Organic Seaweed Liquid Fertilizer Seaplex - 8oz
- Sale Price: $14.95
Seaplex is a cold processed seaweed for foliar feeding, soil feeding. Seaplex can be used for certified organic crop production. Seaplex contains only the most effective ascophyllum nodosom, a brown kelp that is harvested from the cold, clean waters of the north Atlantic. Brown Kelp's slow growth cycle packs it with maximum levels of amino acids, enzymes, micronutrients, plant hormones (auxins, cytokins, gibberillins) and soil biology that encourages vigorous and healthy plant growth. The growth hormones in Seaplex are essential for cell division, root development, and bud initiation, making it a natural growth enhancer.

Flowering Ligustrum Bonsai Tree Three (3) Tree Forrest Group (ligustrum lucidum)
- Sale Price: $225.00
Native to China and Eastern Asia and is now grown ornamentally in the United States. The berry of the Ligustrum has been used as a "yin" tonic in traditional Chinese medicine for a wide range of conditions, including premature aging, ringing in the ears, and chronic toxicity. White flowers are attractive during late. Great for indoors.

Bonsai Display Table -11.0 x 7.0 x 3.5
- Sale Price: $69.95
Beautifully hand-crafted Pecky Cypress display table. The pecky effect is a kind of sculpturing process which has been produced by nature. Once the tree has been harvested, the causative agent within the tree completely disappears leaving only the characteristic pocketing it formerly created. The beautiful grains of knotty effects will serve to enhance the beauty of your favorite bonsai tree.

Flowering Myrtle Bonsai Tree (myrtus communis)
- Sale Price: $150.00
This evergreen tree is native to southern Europe and has leaves that are only 3-5 cm long. The leaves have a pleasantly fragrant essential oil. The star-like flowers have 5 petals and sepals, and an amazingly large number of stamens. The flower petals are usually white, with globose blue-black berries containing several seeds. Easy indoor care.

Juniper Bonsai Tree - Trained (juniper procumbens nana)
- Sale Price: $89.95
This dwarf Juniper from Japan is the most popular evergreen in the U.S. When we think of a traditional bonsai and what it should look like we think of a "Juniper Procumbens Nana". They are very hardy, long-lived and tolerate many adverse conditions. Trained style.
User Comments:
There are currently 0 comments.