Monterey - 20 (Preserved - Not a living tree)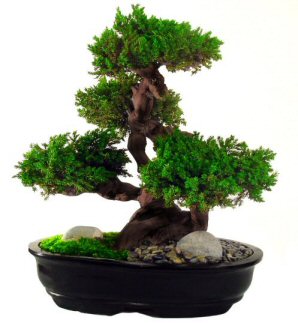 Sale Price: $279.00

From Bonsai Boy of NY
View User Comments
Monterey - 20 (Preserved - Not a living tree)Please allow up to 14 days for delivery.
Neither plastic nor silk, this preserved bonsai tree has real foliage and a real wooden trunk that was carefully handcrafted and preserved to protect its natural fragrance, color and texture indefinitely. No watering, trimming or maintenance is required. With its timeless beauty evoking a feeling of nature, this accent piece accommodates any architectural setting. Our one-of-a-kind preserved bonsai is planted in a traditional glazed imported ceramic container. This is the ultimate in environmental control.
You may also be interested in these related Bonsai Trees and supplies:

Ceramic Bonsai Pot Glazed Round - Blue
- Sale Price: $4.50
Ceramic bonsai pot, round blue glazed.

Ficus Bonsai Tree Small - Variegated (ficus benjamina)
- Sale Price: $24.95
The Ficus Benjamina is an indoor tropical bonsai tree that is easy to care for. The Benjamina has evergreen leaves with a splash of yellow which is called "variegated". The leaf size can be reduced by trimming. Trimming will also keep the tree tight and compact as will direct sun.

Flowering Brush Cherry Bonsai Tree - Small (eugenia myrtifolia)
- Sale Price: $29.95
Also called Syzygium Paniculatum, Australian Brush Cherry. Has small handsome evergreen leaves which are firm and glossy and the flowers are white. If it receives enough light, the leaves will develop red highlights.

Shimpaku Juniper Bonsai Tree - Trained (juniper chinensis)
- Sale Price: $125.00
The Japanese Shimpaku Juniper is a needled evergreen tolerant of a wide variety of soils and is dioecious which means that there are separate male and female plants. Shimpaku is a naturally irregular vase shaped Juniper which we have trained in the traditional bonsai style that has a curved trunk and deadwood in the form of Shari. The Shimpaku has attractive year round foliage and its dark green needles are soft to the touch. Very popular and easy to care for bonsai.

Oval Mica Bonsai Pot - 14 x 9 3/4 x 4
- Sale Price: $45.95
Mica pots from Korea are made of 80% mica, 15% polyethylene and 5% graphite. Mica has a natural ability to stabilize the temperature of the soil in the pots. This promotes healthy root activity during the growing season and protects during the cold periods. These pots are durable and will withstand the elements for years. The pot has a wide lip and is dark brown in color.
User Comments:
There are currently 0 comments.