Monterey - 20 (Preserved - Not a living tree)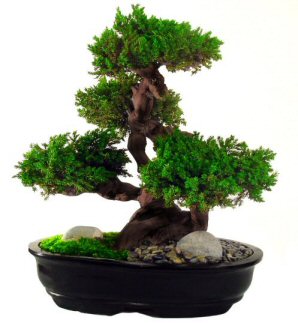 Sale Price: $279.00

From Bonsai Boy of NY
View User Comments
Monterey - 20 (Preserved - Not a living tree)Please allow up to 14 days for delivery.
Neither plastic nor silk, this preserved bonsai tree has real foliage and a real wooden trunk that was carefully handcrafted and preserved to protect its natural fragrance, color and texture indefinitely. No watering, trimming or maintenance is required. With its timeless beauty evoking a feeling of nature, this accent piece accommodates any architectural setting. Our one-of-a-kind preserved bonsai is planted in a traditional glazed imported ceramic container. This is the ultimate in environmental control.
You may also be interested in these related Bonsai Trees and supplies:

Ceramic Bonsai Pot - Professional Series Rectangle 10.0 x 8.0 x 4.0
- Sale Price: $23.95
Imported ceramic bonsai pot

Karate Kid Figurine
- Sale Price: $8.95
Karate Kid Figurine

Flowering Mimosa Bonsai Tree - Large (leucaena glauca)
- Sale Price: $59.95
The Mimosa loves sun and is drought tolerant. It folds its leaves under water stress, preventing water loss and under severe conditions it will defoliate until the rains return. The Mimosa can bloom throughout the year. Flowers are white with a white base, looking like white pom poms and are self-fertilizing. It takes about four months after flowering for the long flattened pods to mature and liberate seeds. The Mimosa seeds have a hard coat which requires scarification (abrasion) and germination is usually 6-10 days after sowing. Fun tree and easy indoor care.

Ceramic Bonsai Pot with Attached Tray - Cascade 7.5x7.5
- Sale Price: $24.00
Ceramic bonsai pot, cascade, square, blue

Ponytail Palm - Large (Beaucamea Recurvata)
- Sale Price: $79.95
The most striking feature of the Ponytail Palm is the swollen base of the trunk. The texture of the trunk looks and feels scaly like the foot of an elephant and is also known as Elephants Foot. The extraordinary thickening of the trunk serves as a water reservoir against dry spells, allowing the tree to go up to four (4) weeks without water and causing no ill effects. Excellent in low or higher lighting conditions. The Ponytail is an excellent choice for home, office or anywhere.
User Comments:
There are currently 0 comments.