Miniature Bonsai Tree Treasure Box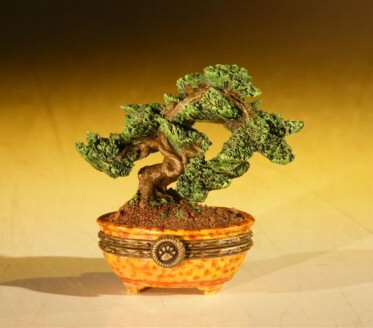 Sale Price: $9.95

From Bonsai Boy of NY
View User Comments
Miniature Bonsai Tree Treasure Box
Miniature bonsai tree treasure box. Opens with hinge to reveal a seed inside inscribed with the word "Seed"....a reminder that even the smallest of wishes planted in your mind can lead to the most beautiful creations in life.
You may also be interested in these related Bonsai Trees and supplies:

Ceramic Bonsai Pot - Rectangle 11.5 x 8.5 x 3.0
- Sale Price: $24.95
Imported ceramic bonsai pot

Ginseng Ficus Bonsai Tree Root Over Rock Style (Ficus Retusa)
- Sale Price: $250.00
Also known as Banyan Fig and Taiwan Ficus. The Retusa has small dark green leaves that alternate up the stem and which are more oval than the Benjamina. Grey to reddish bark dotted with small horizontal flecks, similar to tiger-like markings. Grown and trained in the root over rock style. Among the most tolerant, versatile and trouble-free bonsai trees for indoor use.

Wire Bonsai Tree Sculpture - Dogwood on Lawn 19Hx19Wx21D
- Sale Price: $859.00
The main trunk and branches of this sculpture are made of 20 and 26 gauge steel galvanized wire, giving the surface a matte gray finish. The outer twigs and hundreds of hammered leaves are created of 26 gauge brass wire. The combination of the two types of wire gives the sculpture a lifelike and very full appearance. In contrast to the multi colors of the tree, the sculpture is planted into a simple 8" round grass covered base. The grass is created by using several types of sand which is painted in green, yellow and white and which will not fade.

Ceramic Bonsai Pot With Attached Humidity/Drip tray- Professional Series Rectangle 8.5 x 6.5 x 3.5
- Sale Price: $19.25
Imported ceramic bonsai pot.

Shimpaku Juniper Bonsai Tree - Trained (juniper chinensis)
- Sale Price: $125.00
The Japanese Shimpaku Juniper is a needled evergreen tolerant of a wide variety of soils and is dioecious which means that there are separate male and female plants. Shimpaku is a naturally irregular vase shaped Juniper which we have trained in the traditional bonsai style that has a curved trunk and deadwood in the form of Shari. The Shimpaku has attractive year round foliage and its dark green needles are soft to the touch. Very popular and easy to care for bonsai.
User Comments:
There are currently 0 comments.