Miniature Bonsai Tree Treasure Box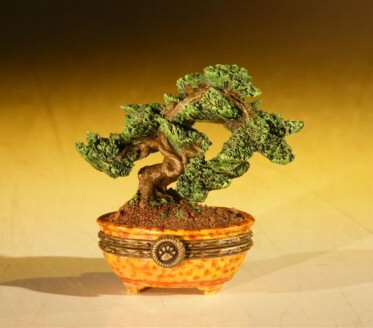 Sale Price: $9.95

From Bonsai Boy of NY
View User Comments
Miniature Bonsai Tree Treasure Box
Miniature bonsai tree treasure box. Opens with hinge to reveal a seed inside inscribed with the word "Seed"....a reminder that even the smallest of wishes planted in your mind can lead to the most beautiful creations in life.
You may also be interested in these related Bonsai Trees and supplies:

Humidity/Drip Tray Bonsai Pebbles - Small Bag Size
- Sale Price: $2.95
It is a good idea to add water to your bonsai humidity/drip tray. It is also a good idea to raise your bonsai pot out of the water by lining your tray with River pebbles.

Flowering Parrot's Beak - Extra Large (gmelina philippensis)
- Sale Price: $125.00
Parrot's Beak, or Gmelina (pronounced with a silent G) has leaves which vary from oval to ivy or "duck foot" shape. It has exotic flowers occasionally which are comprised of yellow blooms which emerge at the end of a tube-like structure of overlapping bracts. The flower resembles a Parrot's Beak, hence the name. The flower pod has one seed. The fruit is fleshy, smooth, yellow, pear-shaped and about 2 centimeters long. Parrot's Peak is native to the Philipine Islands, India and Southeast Asia. Cold tolerant to lower 30s.

Oriental Ficus Bonsai In Lava Rock (ficus benjamina 'orientalis')
- Sale Price: $39.95
Fig species which is native to South and Southeastern Asia. These evergreen trees are particularly good for bonsai training, as they produce sturdy trunks, good branching characteristics and shiny leaves. Great for indoors year round. The brighter the location, the more compact the growth. Three tree forest group, easy maintenance.

Wire Bonsai Tree Sculpture Book
- Sale Price: $14.95
Complete step-by-step 76 page book with fully illustrated instructions on how to make your own tree sculptures. With clearly written, simple instructions, it will show you how to create wire and beaded trees from the beginning stages through completion. The book listd all the materials and tools needed with 78 drawings and photographs. After completing the basic techniques, you will be able to create 5 very different types of trees.

Wooden Display Table - 13 x 8 x 4.75 tall
- Sale Price: $99.95
Wooden display table. Made in China. Semi-gloss finish.
User Comments:
There are currently 0 comments.