Mica Bonsai Pot - Oval 17x11.75x4.0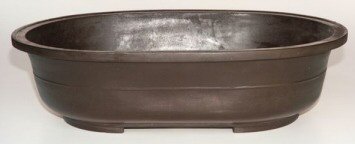 Sale Price: $56.95

From Bonsai Boy of NY
View User Comments
Mica Bonsai Pot - Oval 17x11.75x4.0
Mica Pots imported from Korea are made of 80% mica, 15% polyethelene and 5% graphite. Mica has a natural ability to stabilize the temperature of the soil in the pots. This promotes healthy root activity during the growing season and protects during the cold periods. These pots are extremely durable and will withstand the element for years. The pot has a wide lip and is dark brown in color.
You may also be interested in these related Bonsai Trees and supplies:

Miniature Ceramic Figurine Man Reading Book - Blue Robe (Small)
- Sale Price: $3.95
Miniature ceramic figurine of man reading a book and wearing a blue robe.

Ceramic Bonsai Pot - Rectangle Unglazed 12x9.625x3.5
- Sale Price: $27.50
Rectangle unglazed ceramic bonsai pot

Bonsai Tools - Entire Set Set Includes 6 Tools
- Sale Price: $112.70
Set Includes 6 Tools
A. - Satsuki Shears #1068.
Made in China. Long narrow body which is great for trimming buds and reaching deep with minimum disturbance to the surrounding foliage. It's finger rings are also well suited for smaller hands. 3/4" blades, 7" overall. $14.95 each.
Buy separately
.
B. - Concave Branch Cutter #1070.
(Beginner) This razor sharp tool is designed for cutting branches flush to the trunk. The resulting wound can then heal over quickly with very little scarring. Will keep a sharp edge indefinitely when properly used and cared for. The Concave Cutter is the single most important tool for bonsai use and for which there is no substitute. The 8" version is considered the basic size. 8" overall. Similar in appearance to above. Made in China. $23.95 each.
Buy separately
.
C. - Bonsai Wire Cutters #1071.
Made in China. These wire cutters are designed specifically for removing bonsai wire. Although enthusiasts new to bonsai sometimes substitute standard wire cutters, these are designed with a rounded head to prevent damage to the trunk and branches when removing wires. The jaws of the cutters cut the wire symmetrically and cleanly. Highly recommended for bonsai enthusiast. 8" overall. $19.95 each.
Buy separately
.
D. - Shears #1073. (Beginner) Made in China. Similar in appearance to above $19.95 each. Buy separately.
E. - Spherical Knob Cutter #1445.
Made in China. Designed to remove trunk knobs and roots. The head is shaped like a ball, hence the name "spherical." It produces a hollow, circular cut that heals quickly with a minimum of scarring. 7" long. $16.95.
Buy separately
.
F. - Single Point Root Rake #1075
Used to separate small and medium sized capillary roots during transplanting and repotting. Has a single steel prong. Simple, yet a necessary tool for bonsai enthusiasts. 8" overall. $16.95 each.
Buy separately
.

Fukien Tea Flowering Bonsai Tree Curved Trunk - Extra Large (ehretia microphylla)
- Sale Price: $125.00
Native to the Fujan province of China. This tree has small white flowers that can bloom at any time. The foliage is dark green and small in size. The flowers turn into red berries that turn darker with age. Trained in the traditional cloud layer style with a curved trunk. Loves the heat and does great indoors.

Juniper Bonsai Tree - Trained (juniper procumbens nana)
- Sale Price: $89.95
This dwarf Juniper from Japan is the most popular evergreen in the U.S. When we think of a traditional bonsai and what it should look like we think of a "Juniper Procumbens Nana". They are very hardy, long-lived and tolerate many adverse conditions. Trained style.
User Comments:
There are currently 0 comments.