Liquid Chelated Iron 4 oz. concentrate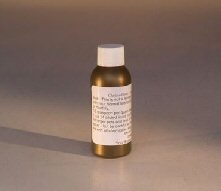 Sale Price: $7.95

From Bonsai Boy of NY
View User Comments
Liquid Chelated Iron 4 oz. concentrate
Liquid chelated iron concentrate. Cures and prevents iron deficiencies in the soil while reversing or reducing the pale green or yellow discoloration associated with chlorosis. Provides iron in a form that is immediately available to vegetation, remaining in the soil for extended feedings. Our liquid chelated iron is economical and safe. Dilute 1/2 teaspoon per quart of water and apply monthly.
You may also be interested in these related Bonsai Trees and supplies:

Miniature Glazed Figurine Loving Couple Holding Hands
- Sale Price: $4.95
Miniature glazed figurine. Boy and girl holding hands.

Colorado Lava Rock Granules Bonsai Tree Soil Additive - 2 lbs. (1 Qt.)
- Sale Price: $6.95
Lava Rock is a naturally occurring volcanic cinder that has a porous structure which makes the material lightweight and highly moisture retentive. Incorporate into your bonsai soil mix to increase drainage (aeration). It will absorb up to 40% of its weight in water. Small lava rock (1/4 to 3/8 inch) is the best "sand" component around because it is "sharp" and has very irregular surfaces.

Baby Jade Bonsai Tree Water/Land Container - Medium Portulacaria Afra
- Sale Price: $49.95
This succulent bonsai, also known as the "Elephant Bush", is native to South Africa and has pale green leaves that are almost round and about one-third the size of the common Jade plant. The fleshy trunk, branches, and leaves are used to store water. Our tree is planted in a water pot which has a well on one side that holds water. We include a fisherman figure with a fishing pole and a ceramic fish. An excellent bonsai tree for the home or office.

Juniper Bonsai Tree - Trained (juniper procumbens nana)
- Sale Price: $89.95
This dwarf Juniper from Japan is the most popular evergreen in the U.S. When we think of a traditional bonsai and what it should look like we think of a "Juniper Procumbens Nana". They are very hardy, long-lived and tolerate many adverse conditions. Trained style.

Ficus Bonsai Tree - Root Over Rock (ficus natalensis)
- Sale Price: $150.00
Has oval to roundish dark green shiny leaves. Easily forms rosetts at the end of it's branches if kept trimmed. Branches and fruits well and has significant aerial roots. Different than other Ficus varieties in that the leaves are thicker. Does well in medium or higher lighting conditions. One of our favorites. Very easy indoor maintenance.
User Comments:
There are currently 0 comments.