Liquid Chelated Iron 1 oz. concentrate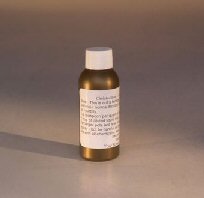 Sale Price: $5.95

From Bonsai Boy of NY
View User Comments
Liquid Chelated Iron 1 oz. concentrate
Liquid chelated iron concentrate. Cures and prevents iron deficiencies in the soil while reversing or reducing the pale green or yellow discoloration associated with chlorosis. Provides iron in a form that is immediately available to vegetation, remaining in the soil for extended feedings. Our liquid chelated iron is economical and safe. Dilute 1/2 teaspoon per quart of water and apply monthly.
You may also be interested in these related Bonsai Trees and supplies:

Pokon Leaf Shine - 20 Fluid oz.
- Sale Price: $17.95
Pokon Leaf Shine made in Holland is an environmentally safe propellant that gives the leaves back their natural gloss and prevents dust from settling.

Water Pavillion Figurine Unglazed - Large 3.0x2.25x3.0 tall
- Sale Price: $9.95
Unglazed water pavillion figurine

Rapeseed Cake Organic Fertilizer
- Sale Price: $10.95
Our rapeseed Maruta brand is manufactured in Japan and contains no animal products, including bonemeal. Nearly impossible to overfeed, as it is long-lasting. Replace every 50 days in summer and 100 days in winter. Each cake is approximately 1.0" x 1.0" in diameter. Apply 1 or 2 cakes for average size container. Will not deteriorate. Free shipping with tree order.

Ceramic Orchid Pot 5.0x5.25 Square With Attached Saucer
- Sale Price: $13.50
Imported Ceramic Orchid Pot

Bonsai Tools - Entire Set Set Includes 6 Tools
- Sale Price: $112.70
Set Includes 6 Tools
A. - Satsuki Shears #1068.
Made in China. Long narrow body which is great for trimming buds and reaching deep with minimum disturbance to the surrounding foliage. It's finger rings are also well suited for smaller hands. 3/4" blades, 7" overall. $14.95 each.
Buy separately
.
B. - Concave Branch Cutter #1070.
(Beginner) This razor sharp tool is designed for cutting branches flush to the trunk. The resulting wound can then heal over quickly with very little scarring. Will keep a sharp edge indefinitely when properly used and cared for. The Concave Cutter is the single most important tool for bonsai use and for which there is no substitute. The 8" version is considered the basic size. 8" overall. Similar in appearance to above. Made in China. $23.95 each.
Buy separately
.
C. - Bonsai Wire Cutters #1071.
Made in China. These wire cutters are designed specifically for removing bonsai wire. Although enthusiasts new to bonsai sometimes substitute standard wire cutters, these are designed with a rounded head to prevent damage to the trunk and branches when removing wires. The jaws of the cutters cut the wire symmetrically and cleanly. Highly recommended for bonsai enthusiast. 8" overall. $19.95 each.
Buy separately
.
D. - Shears #1073. (Beginner) Made in China. Similar in appearance to above $19.95 each. Buy separately.
E. - Spherical Knob Cutter #1445.
Made in China. Designed to remove trunk knobs and roots. The head is shaped like a ball, hence the name "spherical." It produces a hollow, circular cut that heals quickly with a minimum of scarring. 7" long. $16.95.
Buy separately
.
F. - Single Point Root Rake #1075
Used to separate small and medium sized capillary roots during transplanting and repotting. Has a single steel prong. Simple, yet a necessary tool for bonsai enthusiasts. 8" overall. $16.95 each.
Buy separately
.
User Comments:
There are currently 0 comments.