Limequat Bonsai Tree (limequat eustis)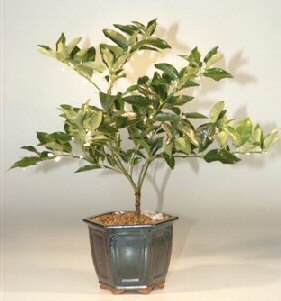 Sale Price: $89.95

From Bonsai Boy of NY
View User Comments
Limequat Bonsai Tree (limequat eustis)
Eustis is a hybrid between West Indian Lime and Marumi Kumquat which flowers and fruits readily on its own. It is an easy to maintain small lime tree requiring less heat than other lime varieties. The Limequat is a small tree with an open habit and heavy crops of small, oval, light colored yellow fruit. The flesh is juicy and acidic and has the same aromatic flavor as the lime with about 8 seeds per fruit. Eustis makes an attractive ornamental and the fruit can be used as a lemon or lime substitute. Great for indoors.
You may also be interested in these related Bonsai Trees and supplies:

Flowering Lavender Star Flower Bonsai - 3 Tree Forest Group (Grewia Occidentalis)
- Sale Price: $52.95
Evergreen tree native to Africa and Australia with 400 species worldwide. Awesome purple/mauve 1" wide flowers borne along the stem at the end of spring and then, occasionally, the rest of the year. Good indoor bonsai tree. Provide some sun to help generate blooms.

7.75 Houtoku Bonsai Pot
- Sale Price: $18.00
7.75"x6.5"x3".

Ficus Retusa Bonsai Tree - Banyan Style (ficus retusa)
- Sale Price: $250.00
Also known as Banyan Fig. The Retusa has small, dark green leaves which are more oval than the Benjamina. Grey to reddish bark dotted with small horizontal flecks, similar to tiger-like markings. Has a heavy trunk with tiered branching and an extensive banyan root system. The Retusa is among the most tolerant, versatile and trouble-free bonsai trees for indoor use.

Replacement Lamp (for Desktop Grow Light)
- Sale Price: $16.95
Replacement Lamp for Desktop Grow Light

Architectural Birdhouse (Mid-Western Dweller)
- Sale Price: $99.95
Our Architectural Birdhouse is handcrafted of kiln-dried hardwood, exterior grade ply-board and western red cedar or pine shingles for the roof. The finish is a non-toxic, oil-based paint. Our birdhouse is intended for use with wildlife and, therefore, no pressure-treated wood or harmful chemicals have been applied. The cedar shingles will naturally patina to a silvery gray color with sun bleaching. Structure is built with aeration slats for good air circulation. Solid wood with resin detail.
User Comments:
There are currently 0 comments.