Limequat Bonsai Tree (limequat eustis)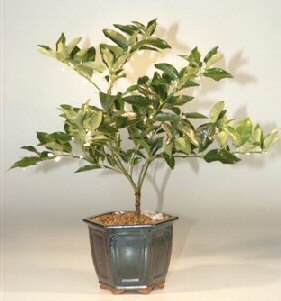 Sale Price: $89.95

From Bonsai Boy of NY
View User Comments
Limequat Bonsai Tree (limequat eustis)
Eustis is a hybrid between West Indian Lime and Marumi Kumquat which flowers and fruits readily on its own. It is an easy to maintain small lime tree requiring less heat than other lime varieties. The Limequat is a small tree with an open habit and heavy crops of small, oval, light colored yellow fruit. The flesh is juicy and acidic and has the same aromatic flavor as the lime with about 8 seeds per fruit. Eustis makes an attractive ornamental and the fruit can be used as a lemon or lime substitute. Great for indoors.
You may also be interested in these related Bonsai Trees and supplies:

Ginseng Ficus Bonsai Tree - Large (Ficus Retusa)
- Sale Price: $69.95
Also known as Banyan Fig and Taiwan Ficus. The Retusa has small dark green leaves which alternate up the stem and which are more oval than the Benjamina. Grey to reddish bark dotted with small horizontal flecks, similar to tiger-like markings. All have heavy trunks with exposed aerial roots. Among the most tolerant, versatile and trouble-free bonsai trees for indoor use.

Flowering Japanese Honeysuckle Bonsai Tree (lonicera japonica 'halliana')
- Sale Price: $39.95
The Japanese Honeysuckle is a climbing vine that we have trained into bonsai tree form. It blooms in the spring and summer with fragrant creamy white flowers. It benefits from pruning and thinning. The cultivar name honors George Rogers Hall (1820-1899), an American medical doctor living in Japan who founded a garden in Yokohama.

Pre Bonsai Shimpaku Bonsai Tree - Small (shimpaku itoigawa)
- Sale Price: $19.95

Juniper Bonsai Tree - Trained (juniper procumbens nana)
- Sale Price: $150.00
This dwarf Juniper from Japan is the most popular evergreen in the U.S. When we think of a traditional bonsai and what it should look like we think of a "Juniper Procumbens Nana". They are very hardy, long-lived and tolerate many adverse conditions. Trained style.

Flowering Holly (ilex)
- Sale Price: $49.95
The holly has alternate glossy leaves, typically with a spiny toothed or serrated leaf margin. It has four small petal flowers from greenish to white in color. Pollination is done by bees or other insects. The fruit is a berry, usually red to brown but rarely green or yellow which ripens in winter. Offers a pleasant color contrast with the color of the foliage. The fruits are a very important food source for birds and other wild life and in winter the Ilex is an important source of food and shelter.
User Comments:
There are currently 0 comments.