Lavender Star Flower Bonsai Tree (Grewia Occidentalis)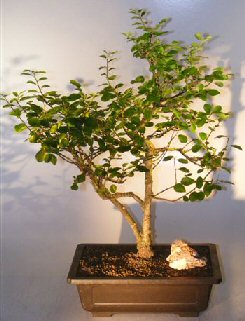 Sale Price: $225.00

From Bonsai Boy of NY
View User Comments
Lavender Star Flower Bonsai Tree (Grewia Occidentalis)
Evergreen tree native to Africa and Australia with 400 species worldwide. Awesome purple/mauve 1" wide flowers borne along the stem at the end of spring and then, occasionally, the rest of the year. Good indoor bonsai tree. Provide some sun to help generate blooms.
You may also be interested in these related Bonsai Trees and supplies:

Juniper Bonsai Tree - Curved Trunk (juniper procumbens nana)
- Sale Price: $59.95
This dwarf Juniper from Japan is the most popular evergreen in the United States. When we think of a traditional bonsai and what it should look like, we think of a "Juniper Procumbens Nana". They are very hardy, long-lived and tolerate many adverse conditions. Trained in the traditional curved trunk style.

Flowering Texas Ebony (Pithecolobium Flexicaule)
- Sale Price: $69.95
Acacia/Mimosa family. Native to Texas and Mexico and is ideal for dry, indoor locations. The short branches are clothed in tiny dark green, bi-pinnate (compound) leaflets and make a wide rounded canopy which casts a filtered shade below. Leaves fold up at night or in subdued light. Touching the leaves does not put it to sleep as in some Mimosa. Short thorns are interspersed among the branches. From June to August is decorated with dense, plume-like spikes of very fragrant, light yellow to white blossoms at the end of its branches. Dark brown woody seed capsules follow the blooms and persist on the tree for weeks. In Mexico these seed pods are eaten and the shells roasted and used as a coffee substitute.

Ceramic Bonsai Pot - Rectangle Unglazed
- Sale Price: $21.50
Rectangle, unglazed, ceramic bonsai pot. Measures 10"x7.825"x3.125"

Ceramic Bonsai Pot - Oval Unglazed
- Sale Price: $14.50
Oval, unglazed, ceramic bonsai pot. Measures 8"x6.125"x2.5"

Neem Oil Organic Pest Control Concentrate 8 Ounces
- Sale Price: $21.95
The Neem tree is considered to be one of the most promising trees of the 21st century. It has great potential in the fields of pest management, environmental protection and medicine. Used widely as a bio-pesticide for organic farming, as it repels a wide variety of pests, including the mealy bug, aphids, ants and mosquitoes. Use as a repellent and larvacide. Neem oil also controls black spot, powdery mildew and fungus. Dilute at the rate of 4 teaspoons per gallon of water. Adding a surfactant, such as liquid diswashing soap, will enhance its effectiveness. Great for all bonsai trees and household plants.
User Comments:
There are currently 0 comments.