Lavender Star Flower Bonsai Tree (Grewia Occidentalis)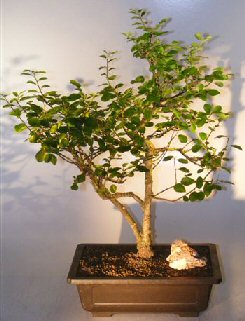 Sale Price: $225.00

From Bonsai Boy of NY
View User Comments
Lavender Star Flower Bonsai Tree (Grewia Occidentalis)
Evergreen tree native to Africa and Australia with 400 species worldwide. Awesome purple/mauve 1" wide flowers borne along the stem at the end of spring and then, occasionally, the rest of the year. Good indoor bonsai tree. Provide some sun to help generate blooms.
You may also be interested in these related Bonsai Trees and supplies:

Ficus Retusa Bonsai Tree Curved Trunk & Tiered branching style (ficus retusa)
- Sale Price: $295.00
Also known as Banyan Fig. The Retusa has small, dark green leaves which are more oval than the Benjamina. Grey to reddish bark dotted with small horizontal flecks, similar to tiger-like markings. Has a heavy trunk with and tiered branching. The Retusa is among the most tolerant, versatile and trouble-free bonsai trees for indoor use.

San Jose Juniper - Pom Pom Style juniperus Chinensin 'San Jose'
- Sale Price: $495.00
This Juniper is notable for its striking green foliage and beautiful bark. The San Jose Juniper is a conifer and bears Juniper Berries during the summer months.Trained in the Pom Pom style. Great beginner bonsai.

White Orchid Select White Phalaenopsis
- Sale Price: $49.95
The single stem Phalaenopsis is perhaps the most popular of all orchids. It's beauty and elegance is unsurpassed and it's blooms last for up to 2 months or more. Our select orchid comes with up to 6 blooms. Sending orchids is possibly the most thoughtful way to brighten someone's day. Orchids are exotic and many people are honored to receive them. We include the name of the orchid and easy care instructions so the orchid will be appreciated for a very long time. This white Phalaenopsis is sure to be enjoyed by anyone who receives it. This is the perfect indoor flowering orchid for the beginner. Arrives in flower and bud.

Juniper Bonsai Tree - Trained (juniper procumbens nana)
- Sale Price: $89.95
This dwarf Juniper from Japan is the most popular evergreen in the U.S. When we think of a traditional bonsai and what it should look like we think of a "Juniper Procumbens Nana". They are very hardy, long-lived and tolerate many adverse conditions. Trained style.

Karate Kid Figurine
- Sale Price: $8.95
Karate Kid Figurine
User Comments:
There are currently 0 comments.