Land/Water Ceramic Bonsai Pot 11.25 x 9.5 x 3.0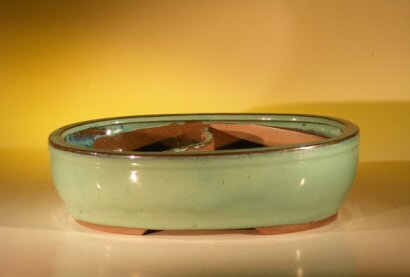 Sale Price: $29.95

From Bonsai Boy of NY
View User Comments
Land/Water Ceramic Bonsai Pot 11.25 x 9.5 x 3.0
Land/Water ceramic bonsai pot. One side is for a tree planting and the other is a well that holds water.
You may also be interested in these related Bonsai Trees and supplies:

Flowering Mount Fuji Serissa Bonsai Tree - Medium Stone Landscape Scene (serissa foetida)
- Sale Price: $59.95
The rocks selected for this unusual arrangement are imported and washed in acid, making them strikingly unique. We then cut and cement the rocks to one side of the pot and create a well on the opposite side. A ceramic bridge is cemented to the rocks on either side. A pagoda figurine is also added and cemented to the stone located above the bridge. To complete the scene, we cement a miniature, glazed, mud figurine fisherman overlooking the well, holding a fishing pole and fish. On the opposite side of the restful scene, we have selected for planting, the flowering Mount Fuji Serissa bonsai which blooms easily. An excellent indoor bonsai tree for home or office.

Flowering Parrot's Beak- Medium (gmelina philippensis)
- Sale Price: $49.95
Parrot's Beak, or Gmelina (pronounced with a silent G) has leaves which vary from oval to ivy or "duck foot" shape. It has exotic flowers occasionally which are comprised of yellow blooms which emerge at the end of a tube-like structure of overlapping bracts. The flower resembles a Parrot's Beak, hence the name. The flower pod has one seed. The fruit is fleshy, smooth, yellow, pear-shaped and about 2 centimeters long. Parrot's Peak is native to the Philipine Islands, India and Southeast Asia. Cold tolerant to lower 30s.

Ceramic Duck Figurine - 1.25x.25x.75
- Sale Price: $2.95
Ceramic duck figurine

Chinese Elm Bonsai Tree-Extra Large (Ulmus Parvifolia)
- Sale Price: $129.95
Has small evergreen leaves. Hardy with excellent branching characteristics. Has a twisted trunk and some exposed roots which give the appearance of great age. Semi-deciduous

Starter Kit - Shimpaku Juniper Make Your Own Bonsai Tree
- Sale Price: $69.95
Make your own Bonsai Tree. Everything you need to create your own bonsai tree. Kit includes the following:
User Comments:
There are currently 0 comments.