Juniper-Stone Landscape Scene - Large (Juniper Procumbens nana)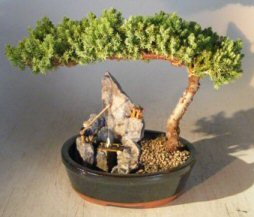 Sale Price: $59.95

From Bonsai Boy of NY
View User Comments
Juniper-Stone Landscape Scene - Large (Juniper Procumbens nana)
The rocks selected for this unusual arrangement are imported and washed in acid making them strikingly unique. We then cut and cement the rocks to one side of the pot, leaving an ample well between them to hold water. A ceramic bridge is cemented to the rocks on either side. A pagoda figurine is also added and cemented to the stone located above the bridge. To complete the scene, we cement a miniature, glazed, mud figurine fisherman overlooking the water holding a fishing pole and fish. On the opposite side of this restful scene, we have selected for planting, the ever popular Juniper bonsai. The entire landscape is arranged in an attractive, glazed, imported ceramic container.
You may also be interested in these related Bonsai Trees and supplies:

Ceramic Holiday Pot - Glazed Green with Red Bow - 3.5x3.5
- Sale Price: $8.95
Festive, glazed, ceramic Holiday Pot. Green with red bow.

Preserved Juniper Bonsai Tree - Forest Group Style (Preserved - Not a living tree)
- Sale Price: $299.95
Please allow up to 14 days for delivery.

Shimpaku Juniper Bonsai Tree - Trained (juniper chinensis)
- Sale Price: $125.00
The Japanese Shimpaku Juniper is a needled evergreen tolerant of a wide variety of soils and is dioecious which means that there are separate male and female plants. Shimpaku is a naturally irregular vase shaped Juniper which we have trained in the traditional bonsai style that has a curved trunk and deadwood in the form of Shari. The Shimpaku has attractive year round foliage and its dark green needles are soft to the touch. Very popular and easy to care for bonsai.

Bonsai Basics Christian Pessey and Remy Samson
- Sale Price: $12.95
By Christian Pessey and Remy Samson. Very popular beginner book since its introduction in 1993. Easy-to-follow training techniques for pruning and wiring. Expert advice on repotting, watering and feeding. Over 200 color photographs with numerous line drawings.

Ficus Bonsai Tree Forest Group (ficus benjamina)
- Sale Price: $125.00
This popular evergreen bonsai is recommended for home or office and does well in lower or higher lighting conditions. Forest group style.
User Comments:
There are currently 0 comments.