Juniper Windswept - Extra Large (juniper procumbens 'nana')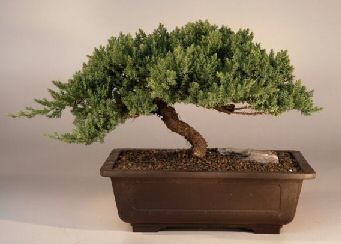 Sale Price: $125.00

From Bonsai Boy of NY
View User Comments
Juniper Windswept - Extra Large (juniper procumbens 'nana')
This dwarf Juniper from Japan is the most popular evergreen in the U.S. When we think of a traditional bonsai and what it should look like, we think of a "Juniper Procumbens Nana". It is very hardy, long-lived, and tolerates many adverse conditions. This is an excellent tree for the beginner.
You may also be interested in these related Bonsai Trees and supplies:

European Beech (fagus sylvatica)
- Sale Price: $695.00
The European Beech has the darkest gray bark and darkest green leaves of all the Beeches. Some leaves are held late into the winter and the smooth bark is quite ornamental. The most distinctive feature of the Beech is its unmistakable cigar-shaped buds. These buds are rather tender and the Beech does not produce secondary buds. Nature's way of protecting these buds is for the Beech to retain its dead leaves throughout the winter. Deciduous. Keep outdoors.

Terra-Sorb Super Absorbent Hydrogel Granules
- Sale Price: $9.95
Terra-sorb hydrogel is a high quality, long lasting potassium acrylamide copolymer gel in granular form that absorbs hundreds of times its weight in water and slowly releases water into the root zone for use by plant roots. Can be used for all potted plants. The use of Terra-sorb reduces watering frequency significantly and helps prevent plant loss due to drought. Terra-sorb is safe, non-toxic and PH neutral. Great for vacation trips. Remove 25% of the existing soil in houseplants and mix 1 tsp to remaining soil and water-in well.

Conifer Mix Bonsai Soil 10 lbs. (5 Qts.)
- Sale Price: $21.95
A blend of ingredients for potting outdoor material.

Shimpaku Bonsai Tree In Lava Rock - Large (juniper chinensis)
- Sale Price: $69.95
Also known as the Chinese Juniper. This needled evergreen is tolerant of a wide variety of soils and is dioecious which means that there are separate male and female plants. Shimpaku is a naturally irregular vase shaped Juniper which we grow into a mound shape with a curved trunk. The Shimpaku has attractive year round foliage and its dark green needles are soft to the touch. Very popular and easy to care for bonsai.

Bonsai Pro Fertilizer
- Sale Price: $16.95
Bonsai Pro concentrate fertilizer provides the right balance of nutrients for healthy growth. It does not cause undesirable salt buildup in your growing medium. It is a professional formulation containing all essential macro and micro nutrient minerals for healthy bonsai. All elements are in one simple solution. Just like nature, with bonsai pro you feed your bonsai with each watering. Use with all container plants.
User Comments:
There are currently 0 comments.