Juniper Bonsai Tree - Trained (juniper procumbens nana)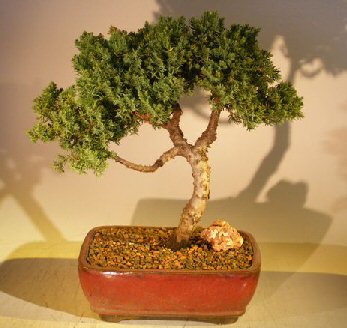 Sale Price: $89.95

From Bonsai Boy of NY
View User Comments
Juniper Bonsai Tree - Trained (juniper procumbens nana)
This dwarf Juniper from Japan is the most popular evergreen in the U.S. When we think of a traditional bonsai and what it should look like we think of a "Juniper Procumbens Nana". They are very hardy, long-lived and tolerate many adverse conditions. Trained style.
You may also be interested in these related Bonsai Trees and supplies:

Lavender Star Flower Bonsai Tree (Grewia Occidentalis)
- Sale Price: $225.00
Evergreen tree native to Africa and Australia with 400 species worldwide. Awesome purple/mauve 1" wide flowers borne along the stem at the end of spring and then, occasionally, the rest of the year. Good indoor bonsai tree. Provide some sun to help generate blooms.

Cast Iron Hanging Garden Pot Decoration - Bumble Bee 3.75 Wide x 2.5 High
- Sale Price: $11.95
Cast Iron Hanging Garden Pot Decoration - Bumble Bee

Flowering Persian Lime Bonsai Tree (citrus latifolia)
- Sale Price: $89.95
Also known as Tahiti Lime or Bears Lime. It is the primary citrus fruit grown commercially in the United States and sold simply as a lime. The fruit it about 6 cm in diameter, often with slightly nippled ends and is usually sold quite green. They are less acidic and are absent of thorns and seeds. Not as bitter as other limes. Good for indoors.

Limequat Bonsai Tree (limequat eustis)
- Sale Price: $89.95
Eustis is a hybrid between West Indian Lime and Marumi Kumquat which flowers and fruits readily on its own. It is an easy to maintain small lime tree requiring less heat than other lime varieties. The Limequat is a small tree with an open habit and heavy crops of small, oval, light colored yellow fruit. The flesh is juicy and acidic and has the same aromatic flavor as the lime with about 8 seeds per fruit. Eustis makes an attractive ornamental and the fruit can be used as a lemon or lime substitute. Great for indoors.

Flowering Orange Jasmine - Large ('murraya paniculata')
- Sale Price: $69.95
The Orange Jasmine (murraya paniculata), also known as "satinwood", is a small tree that belongs to the Rue family. The very fragrant white "orange blossom" flowers stand out against the evergreen dark foliage. This evergreen tree flowers at intervals throughout the year and produces fragrant orange jasmine scented flowers and striking bright orange-to-red fruit. It makes an outstanding indoor flowering bonsai tree due to its compact habit and dense glossy green foliage.
User Comments:
There are currently 0 comments.