Juniper Bonsai Tree - Trained (juniper procumbens nana)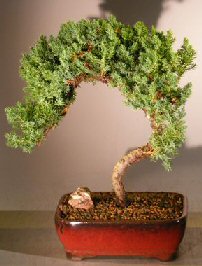 Sale Price: $89.95

From Bonsai Boy of NY
View User Comments
Juniper Bonsai Tree - Trained (juniper procumbens nana)
This dwarf Juniper from Japan is the most popular evergreen in the U.S. When we think of a traditional bonsai and what it should look like we think of a "Juniper Procumbens Nana". They are very hardy, long-lived and tolerate many adverse conditions. Trained style.
You may also be interested in these related Bonsai Trees and supplies:

Pokon Leaf Shine - 20 Fluid oz.
- Sale Price: $17.95
Pokon Leaf Shine made in Holland is an environmentally safe propellant that gives the leaves back their natural gloss and prevents dust from settling.

Flowering Texas Ebony (Pithecolobium Flexicaule)
- Sale Price: $69.95
Acacia/Mimosa family. Native to Texas and Mexico and is ideal for dry, indoor locations. The short branches are clothed in tiny dark green, bi-pinnate (compound) leaflets and make a wide rounded canopy which casts a filtered shade below. Leaves fold up at night or in subdued light. Touching the leaves does not put it to sleep as in some Mimosa. Short thorns are interspersed among the branches. From June to August is decorated with dense, plume-like spikes of very fragrant, light yellow to white blossoms at the end of its branches. Dark brown woody seed capsules follow the blooms and persist on the tree for weeks. In Mexico these seed pods are eaten and the shells roasted and used as a coffee substitute.

Ceramic Bonsai Pot with Attached Tray - Cascade 7.5x7.5
- Sale Price: $24.00
Ceramic Cascade, Square, Bonsai Pot, Mustard

Flowering Sea Grape (coccoloba uvifera)
- Sale Price: $49.95
This Sea Grape is an evergreen flowering tree in the buckwheat family that has large, round, leathery leaves with a primary vein that has a red color extending from the base and the entire leaf turns red as it ages. This Sea Grape is native to the Caribbean and tropical America. The bark is smooth and yellowish. In late summer it bears green fruit ( 0.75) in diameter, in large, grade-like clusters. The fruit gradually ripens to a purplish color. Each contains a pit that constitutes most of the fruit. Great for indoors. Be sure to keep warm and in a sunny location.

Miniature Glazed Figurine Two Men Sitting on a Bench in Fine Detail
- Sale Price: $7.95
Miniature glazed figurine. Two men sitting on a bench in fine detail.
User Comments:
There are currently 0 comments.