Juniper Bonsai Tree - Trained (juniper procumbens nana)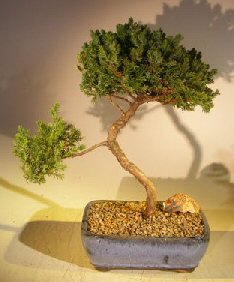 Sale Price: $89.95

From Bonsai Boy of NY
View User Comments
Juniper Bonsai Tree - Trained (juniper procumbens nana)
This dwarf Juniper from Japan is the most popular evergreen in the U.S. When we think of a traditional bonsai and what it should look like we think of a "Juniper Procumbens Nana". They are very hardy, long-lived and tolerate many adverse conditions. Trained style.
You may also be interested in these related Bonsai Trees and supplies:

Ceramic Bonsai Pot - Cascade 7.5x7.5
- Sale Price: $24.00
Ceramic bonsai pot, square cascade, Parisian Red

Oriental Ficus Bonsai Tree Coiled Trunk with Banyan Roots (benjamina 'orientalis')
- Sale Price: $125.00
Fig species which is native to south and southeast Asia. This evergreen tree is particularly good for bonsai training as they produce sturdy trunks, good branching characteristics and shiny leaves. Best to trim the leaves in early summer as the new leaves that subsequently grow will be smaller than the ones removed. Ours is trained in the coiled trunk style. Great for indoors.

Ficus Retusa Bonsai Tree with Banyan Roots (ficus retusa)
- Sale Price: $250.00
Also known as Banyan Fig. The Retusa has small, dark green leaves which are more oval than the Benjamina. Grey to reddish bark dotted with small horizontal flecks, similar to tiger-like markings. Has a heavy trunk, tiered layered style branches and extensive banyan roots. The Retusa is among the most tolerant, versatile and trouble-free bonsai trees for indoor use.

Flowering Water Jasmine Bonsai Tree - Medium (wrightia religiosa)
- Sale Price: $59.95
The Water Jasmine, wrightia religiosa, is the material most often used for bonsai in Malaysia. It is widely planted as a hedge tree in southeast Asia countries because the wrightia is twiggy and is used for medicinal purposes. The Water Jasmine loves the heat and prefers as much direct sun as possible. It can be semi-deciduous during winter if not kept above 65 degrees fahrenheit. The flowers are white, pendulous, and fill a room with a very lovely fragrance. Long, green bean-like seed pods follow flowering if insects pollinate the flowers.

Flowering Gardenia (jasminoides miami supreme)
- Sale Price: $250.00
The irresistible very large white fragrant flowers of this Gardenia explode with blooms spasmatically throughout the year. Ours is grafted onto a wild gardenia rootstock because its own root system cannot support its huge flowers. The tree has dark waxy foliage and makes a beautiful contrast to the delicate flowers. Great for indoors. Best to place outdoors in summer and fall for optimum blooms.
User Comments:
There are currently 0 comments.