Juniper Bonsai Tree - Trained (juniper procumbens nana)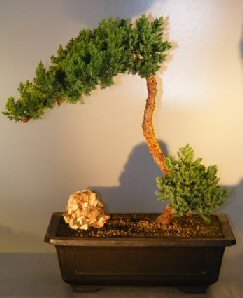 Sale Price: $150.00

From Bonsai Boy of NY
View User Comments
Juniper Bonsai Tree - Trained (juniper procumbens nana)
This dwarf Juniper from Japan is the most popular evergreen in the U.S. When we think of a traditional bonsai and what it should look like we think of a "Juniper Procumbens Nana". They are very hardy, long-lived and tolerate many adverse conditions. This is an excellent tree for the beginner.
You may also be interested in these related Bonsai Trees and supplies:

Purple Orchid Select Purple Phalaenopsis
- Sale Price: $49.95
The single stem Phalaenopsis is perhaps the most popular of all orchids. It's beauty and elegance is unsurpassed and it's blooms last for up to 2 months or more. Our select orchid comes with up to 6 blooms. Sending orchids is possibly the most thoughtful way to brighten someone's day. Orchids are exotic and many people are honored to receive them. We include the name of the orchid and easy care instructions so the orchid will be appreciated for a very long time. This white Phalaenopsis is sure to be enjoyed by anyone who receives it. This is the perfect indoor flowering orchid for the beginner. Arrives in flower and bud.

Brown Turkey Fig (ficus carica)
- Sale Price: $79.95
Figs are naturally a mediterranean fruit tree but the American Brown Turkey Fig is prized and refers to the color of its large ripe pear-shaped fruit which has a purplish brown skin with ruby red or garnet flesh that is very sweet and succulent. Delicious when grown fresh and very popular as dried. This sun loving tree is capable of producing up to three crops of their fruits per year. Figs do not need pollinating to produce fruits and fruit on the previous years growth. Deciduous. Keep outdoors.

Hawaiian Umbrella Bonsai Tree Banyan Style (arboricola schfflera)
- Sale Price: $140.00
This is the tree that we recommend if you are inexperienced with bonsai or you do not have a green thumb. In our opinion it is one of the easiest bonsai trees to care for and is a very beautiful "trouble-free" evergreen. If you don't know which tree to purchase as a gift for someone, this is the tree to select. This versatile tree is great for home, office, dorm or anywhere and does well in low to high lighting conditions. Our tree features tiny umbrella shaped leaves forming a dense green variegated canopy. Very popular and easy indoor care. Our Hawaiian Umbrella bonsai tree with banyan roots is truly a work of art by mother nature. Anyone would be proud to own this impressive conversation piece.

Bonsai Training Wire 2.0 mm Aluminum Training Wire
- Sale Price: $9.95
Brown anodized aluminum training wire. 100 gram, 5" coil.

Shimpaku Juniper Bonsai Tree - Trained (juniper chinensis)
- Sale Price: $125.00
The Japanese Shimpaku Juniper is a needled evergreen tolerant of a wide variety of soils and is dioecious which means that there are separate male and female plants. Shimpaku is a naturally irregular vase shaped Juniper which we have trained in the traditional bonsai style that has a curved trunk and deadwood in the form of Shari. The Shimpaku has attractive year round foliage and its dark green needles are soft to the touch. Very popular and easy to care for bonsai.
User Comments:
There are currently 0 comments.